Our Global Partner Network is Growing…
Join with us in our passionate pursuit to help leaders, future leaders and organizations become the best they can be by becoming a Certified Global Partner of John Mattone-Global.
Here's your chance to partner with John Mattone, the world's top culture and leadership authority and former coach to Steve Jobs, and offer your clients and prospects the John Mattone University (JMU) signature collection of leadership development solutions—including The Intelligent Leadership Program (see infographic below), recognized as one of the world's top three advanced leadership development programs. In addition to offering the JMU signature collection, becoming a John Mattone-Global Certified Partner will enable you to offer his award-winning and powerful collection of culture and leadership assessments, tools and resources as well.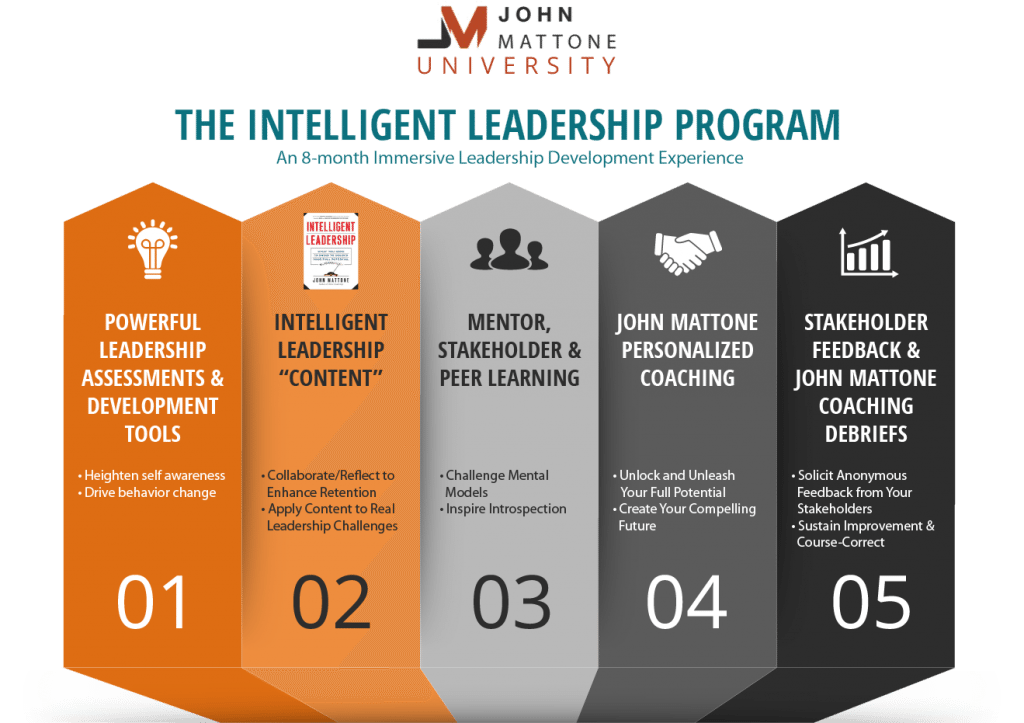 We would love to have a conversation with you about becoming a John Mattone-Global Partner. First things first, there is absolutely no financial/capital investment required*. As long as you meet the requirements below, we make it easy for you to join our Partner ranks. We are offering exclusivity (based on territory) on a first come first served basis. We are offering an attractive revenue-share % to start and based on your results, you can earn a greater %. We have done our homework, our revenue-share %'s are the best in the field of leadership development. You can make a lot of money by adding a "money in the mailbox" revenue stream to your business.
Keep reading below and let's set up a call!
*There is no financial/capital investment unless you decide to market and sell John Mattone's 5 Culture of Culture Assessment (5CCA) as a Distributor.  Partners who distribute the 5CCA have made this decision because they currently have or anticipate they will have enough sales volume to ensure an adequate return on their $2,500 investment.  The Distributor option provides them the opportunity to invest in their "pool" of 5CCA licenses at cost ($3.00/license) and resell at the suggested retail prices.  If you decide not to be a Distributor, however, this in no way impacts your ability to sell and market the 5CCA to your clients and still receive commissions on your sales.
Our Ideal Partners?
Owner/Operator
You share our passion: for businesses to realize their potential they must create and sustain strong and vibrant cultures in support of operating imperatives and they must strengthen their leaders and future leaders.
You have entrepreneurial drive
You want to add world-class leadership and culture assessments, products and tools to your current portfolio of offerings.
You are excited to add a new revenue stream to your business ("money in the mailbox"), with little time investment (other than marketing and positioning your new products/tools to your clients).
Add the John Mattone-Global Product Line to your existing business
You currently own/run a B2B services company such as a consultancy (HR or Strategic Management), an executive coaching firm, a training company, a boutique retained executive search firm or corporate accounting firm.
You think adding a best-in-class, world-renowned brand in an allied field would add prestige to your enterprise and expand your opportunities with your current client base and beyond
Global Partner Certifications
We Grant Partner Certifications Based on Qualifications including, but not limited to:
Business / Organizational experience
A successful track record in one, or some, of the following:
Selling training and/or B2B software
Successful record in Sales Management or Executive Management
Consulting/Executive Coaching
Active in business, civic, and social organizations
An established business network
Getting Started
Once accepted, you will receive:
A comprehensive education with three 2-hour webinars of in-depth product knowledge and sales training (webinars conducted by John Mattone and his team).
Hard-copies (and e-versions) of all products and tools as well as links to John's assessments so you can preview the assessments and your own feedback reports.
Ending with one-on-one coaching and personal mentoring — everything you need to get off to a fast start (coaching conducted by John Mattone and his team).
Support from John Mattone-Global HQ.
Our management team consists of highly talented professionals. Lively two-way communication is "business as usual" for us. We're always tuned in and available via phone or email to answer any questions or help you solve problems. The entire management team is committed and focused on helping you succeed in all ways!
See our current Global Partners: //johnmattone.com/global-partners/
Learn about our Products: //johnmattone.com/assessments/
I'm Interested: //johnmattone.com/contact/