What is Culture?
Your organization's culture represents the collective character, values, thoughts, emotions, beliefs and behaviors of your leaders and individual contributors. Your organization's culture is a product of such factors as its' history and how your leaders and individual contributors ascribe meaning and value to it as well as leadership style (legacy and current) which is then reflected in the creation and implementation of your organization's values, vision, mission, purpose, strategy, structure and roles.
Why is Culture Important?
Your organization's current and future operating success is tied to the "health and vibrancy" and overall "maturity" of your culture. Regardless of your unique transformation challenge (e.g., the need to be more innovative, collaborative, global, more responsive, more efficient, execute better, become more customer-focused, or even integrate or merge with another organization, etc.), your culture and how strong and vibrant it is, will determine if you succeed or fail. If your organization desires to go from GOOD to GREAT and from GREAT to even BETTER, you must attend and continue to attend to the 6 Steps of Cultural Transformation®.
The infographic below, Transforming Culture: The 6 Critical Steps, highlights those steps and my new best-selling book, Cultural Transformations: Lessons of Leadership and Corporate Reinvention provides additional detail to help you and your organization successfully navigate your transformation challenges. Beyond the Book, I have listed below six ways my team and I can help you with your transformation efforts.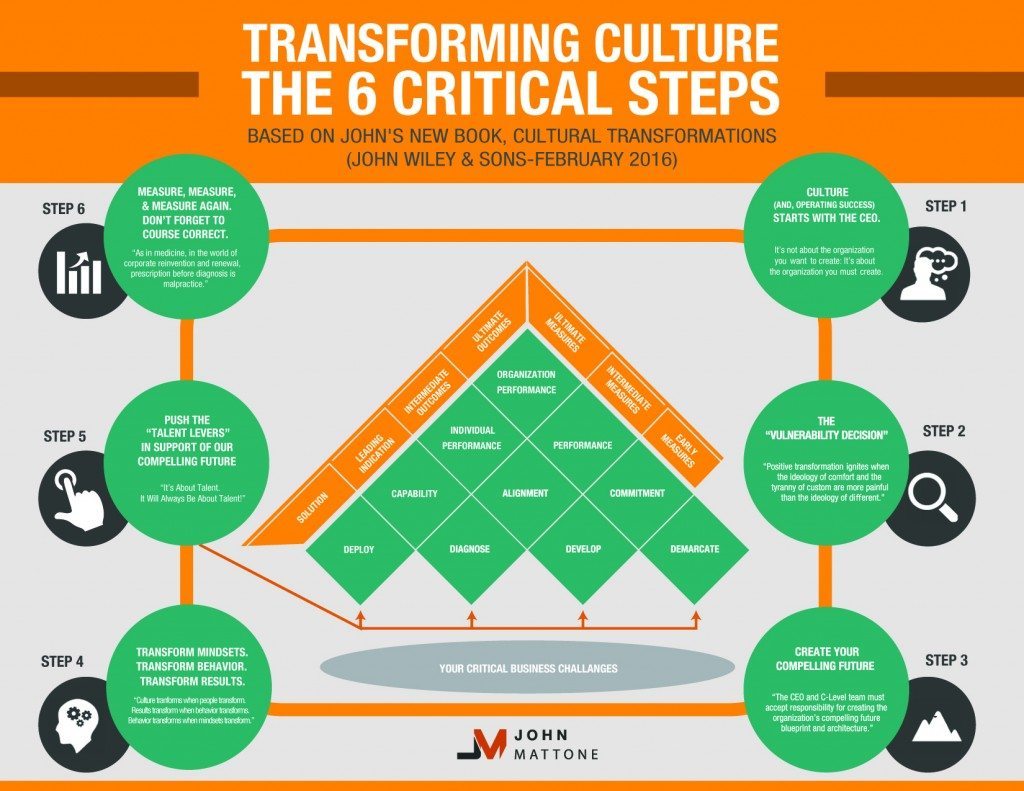 Here Are Some Important Facts…
Whether your organization is a "market leader" or "laggard" doesn't matter. The NEED to transform never ends as all businesses are facing growing DISRUPTION from all angles. 75% of transformations fail, meaning that these organizations no longer exist or they are at risk of no longer existing. They failed in their transformation efforts because they were not as diligent as they needed to be with their cultural transformation efforts. Only 25% of organization's who are considered "market leaders", transform from a position of strength to sustain their position of strength, while 75% of "market leaders" currently are not engaged in positive and pre-emptive transformation efforts—which almost guarantees their eventual failure.
COMING JANUARY 2016
CULTURAL
TRANSFORMATIONS
"Featuring John Mattone's Research & 6-Step Cultural Transformation Model Plus Interviews with 14 of the top CEO's In the World."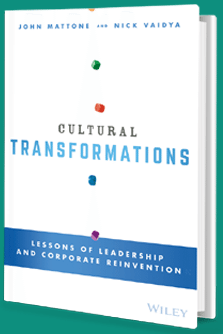 How Can I Help?
Here are seven ways you can access my knowledge and experience. I have arranged these in order, from those that require the least investment to those that require the most.
Search My Website. I have written more than 250 blog posts and articles that can be accessed directly on this site and I am currently writing two blogs per week on the topics of leadership, culture and talent. Also, order my books and pre-order my new release, Cultural Transformations.
Subscribe to My Newsletter. By subscribing, you'll get my latest thinking delivered straight to your inbox. Learn More 
Access My Assessments and Resources. Many of the resources, assessments and diagnostic tools I have are completely free. Some of the assessments, such as the Mattone Leadership Enneagram Inventory and Strategic-Tactical Leadership Index-360, I use in my senior executive coaching are inexpensive, yet powerful. My cultural assessments, likewise, are inexpensive (or free) and easy to administer, yet they are research-based surveys that generate easy to understand detailed reports that will help you pinpoint the "health and vibrancy" of your organization's current culture (The 5 Cultures of Culture Assessment), as well as determine your organization's overall "readiness" to transform its' culture (Cultural Transformation Readiness Assessment-40) in support of your operating goals. Learn More 
Participate in my 2-Day "Cultural Transformation" CEO Retreat. Beginning in the 1st quarter of 2016, I will be conducting a quarterly Retreat exclusively for CEO's. Each Retreat will be limited to 15 CEO's who will come together to learn: (1) the latest research and ideas from me (and each other) about culture and leadership; (2) how to successfully transform their culture in support of their operating goals and vision; and (3) how to lead as a CEO (and C-level team) to best support their transformation initiatives and ensure sustained success.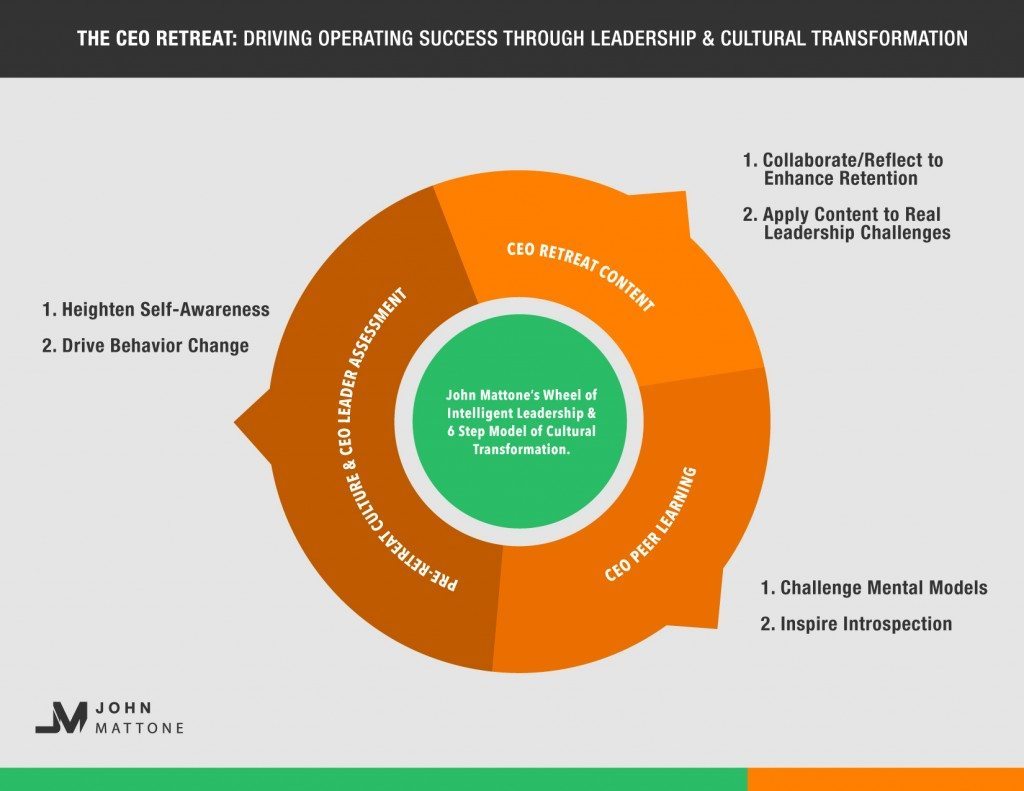 Engage Me and My Team to Support your Cultural Transformation Initiative: Here's the Roadmap
1. Meet with the C-level team and sponsor team to learn more.
2. Administer our 5 Cultures of Culture Assessment (5CCA) to your employee population.
3. Conduct C-Team Cultural Transformation 3-Day "Bootcamp" (See Model Below)
Pre-"Bootcamp"
    –Senior executive individual leadership assessments and coaching debrief with John Mattone
     –Administer our Cultural Transformation Readiness Assessment-40 (CTRA-40) to C-level team
Multi-Day "Bootcamp" (with John Mattone)
     -Discuss the latest research and ideas about culture and leadership
     -Debrief 5CCA and CTRA-40 results and reports
     -How to successfully transform your culture in support of operating goals and vision
     -How to lead as a C-level team to best support your transformation initiatives and ensure sustained success
     -Define your transformation/change imperative and set goals
     -Define your transformation strategy focused on leveraging culture "strengths" and addressing "gaps"
4. Implementation Journey (2 to 3 years)
5. Re-administer the 5CCA and CTRA-40 at agreed upon intervals and course-correct