JOHN MATTONE'S INTELLIGENT LEADERSHIP 8-MONTH PROGRAM IS NO LONGER OFFERED. IT HAS BEEN UPGRADED TO PROVIDE THE BEST LEADERSHIP PROGRAM AVAILABLE WITH NEW FORMATS AND OPTIONS. PLEASE CONTACT US FOR MORE INFORMATION HERE: John Mattone Leadership
A powerful combination of valid assessment, best-selling content, and personal guidance from John Mattone, the Intelligent Leadership Program is truly an industry first.  Limited to only 100 leaders per cohort, this program is GUARANTEED to unleash your full leadership potential!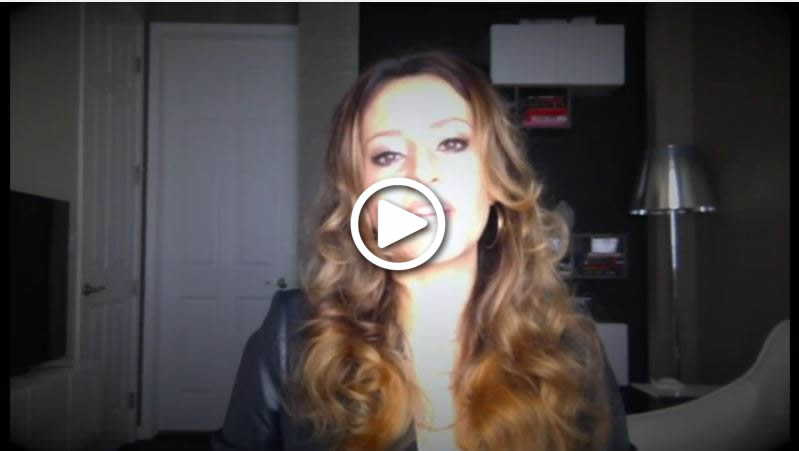 IS THIS A FIT FOR ME?
Intelligent Leadership is a fit if you are aspiring to get into a C-level leadership position (CEO, CXO, Business Unit  or Department Head).  You'll benefit if you…
Are responsible for building a high performing team
Have received  feedback but have not taken action
Have potential to make it big but need the right coach
Want your role and impact to shine on a global platform
Considering for your team?  This unique experience has been designed to seamlessly integrate with and enhance your existing programs. If you're not currently developing your leaders, then ACT NOW and seize this special opportunity.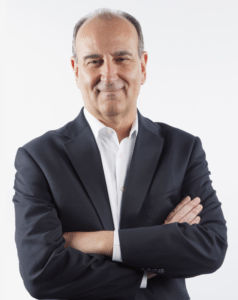 John Mattone is a powerfully engaging, internationally acclaimed keynote speaker and top-ranked executive coach. Having worked personally with over 50 top CEOs  (including the late Steve Jobs), Globalgurus.org, has ranked John Mattone as one of the world's top leadership authorities and speakers.
PROGRAM ELEMENTS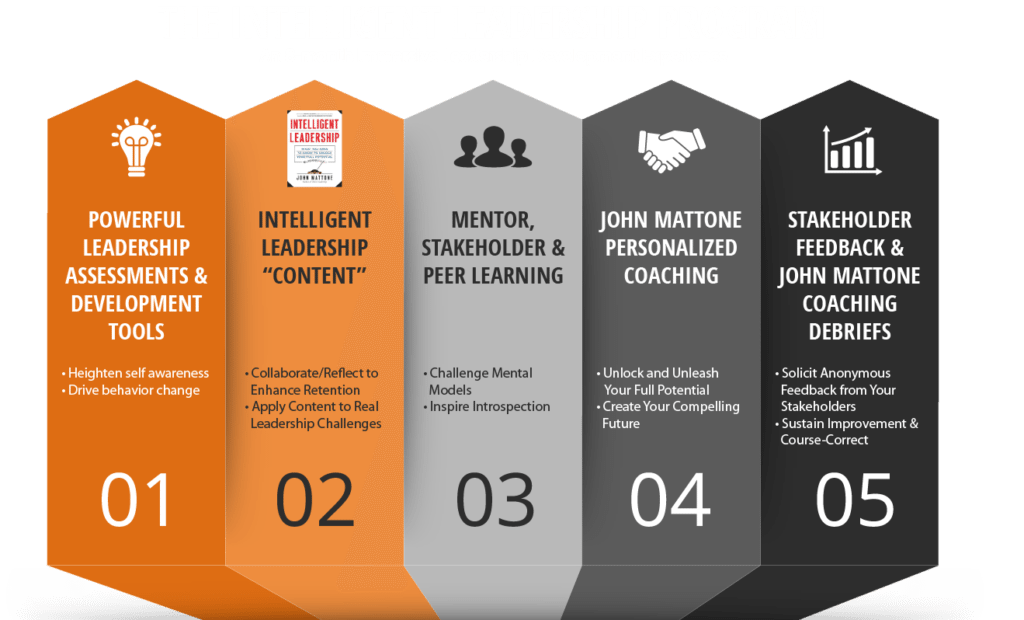 CLIENTS AND TESTIMONIALS

"In an era where many are claiming to have the "magic bullet" for personal and interpersonal effectiveness, John presents an original and creative approach that speaks for itself. With his way to teach and interact with people, he impacted me deeply at the most important inflection point of my professional and personal life. I recommend you to try this course out. You may well discover it offers the help you need to truly transform yourself from the inside out." — Scientific Director, Center for Biomedicine in Bolzano, Italy
"Working and learning with John as part of his leadership immersion experience provided an incredible experience in personal and professional development. Thank you, John" — Vice President, Sales & Marketing ADT Security Services, Inc.
"John Mattone afforded me the opportunity to learn about myself. For many, taking an introspective look at one self is something most speak of doing but few have achieved much less realized the benefits of. I am fortunate to have had the opportunity to discover and take advantage of my strengths while also work on my weaknesses through John Mattone's Program, tools and powerful coaching." — General Manager, OrthoDenco Labs
"John has excellent motivational ability. I was able to be coached by John and absorb his unique techniques to be a more effective leader and identify areas to improve." — Supply Chain Planner, Jarden Consumer Solutions
---
PROGRAM OPTIONS
Silver – $999
MLEI Assessment & Detailed MLEI Interpretive Report
Personalized MLEI Coaching Debrief with John Mattone
4 Content-Based Webinars
4 Team Coaching Webinars
Meet and Interview 2 Global CEO's
Targeted Development Assignments Between Sessions
Individual Leadership Development Planning
LeaderWatch Surveys to Measure Your "Improvement Impact"
Gold- $1,499
All SILVER elements, PLUS
ONE PERSONALIZED COACHING SESSION with John Mattone
Platinum – $1,999
All GOLD elements, PLUS
TWO PERSONALIZED COACHING SESSIONS with John Mattone
CURRENT DISCOUNTS
Purchase multiple seats, receive reduced pricing:
Seats Discount
2-5 Seats, 2% off
6-10 Seats 4% off
11-19 Seats 8% off
20+ Seats 15% off
RESERVE YOUR SEAT TODAY
For more information on scheduling and/or discounts on multiple seats, contact us today