Here's Your Opportunity to be Coached by John or One of our Certified Coaches to…
Learn more about your unique MLEI Profile, including your deep "inner-core" strengths that, when leveraged, will make you a more effective leader and person.
Discover your deep "inner-core" derailers that are holding you back from becoming a more effective leader and person.
Discover your deep "inner-core" traits that are not activating (and why) and therefore are holding you back from becoming the best leader and person you can be.
Learn the secret to translating what you learn about your "inner-core" into driving stronger "outer-core" leadership competencies and behaviors.
Discover the specific leadership behaviors and actions you can take immediately that will result in you becoming a stronger, more vibrant and effective leader.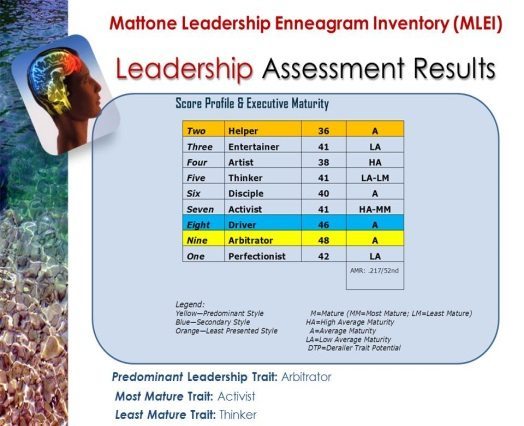 The Mattone Leadership Enneagram Inventory (MLEI) is one of the most revealing "inner-core" leadership assessments that exists in the marketplace today. It is the strength, vibrancy and maturity of your character, self-concept, values, thinking patterns and emotional make-up (inner-core) that determines your success in the "outer-core" (skills and competencies). In other words, your success as a leader starts with greatness in your inner-core.
Your MLEI results will reveal both your inner-core strengths that need to be leveraged and the inner-core gaps and limiting factors that must be addressed by you to unleash your full-potential. John Mattone utilizes the MLEI as part of his executive coaching assignments and there is a global database of over 6500 successful leaders who have leveraged the "game-changing" insights and feedback generated by this unique and popular leadership assessment.
Steve Jobs (Apple's great innovator) MLEI results were debriefed by John Mattone. You can be the next one…
Check full plan details here