…with JOHN MATTONE,
The World's Top Executive Coach.
A 24-week virtual accelerator group where game-changing leaders gather to connect, grow and change the world.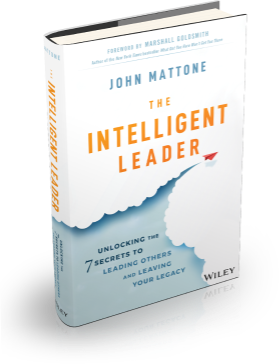 #6 New Management Book to Read in 2020
#52 Best Leadership Book of All Time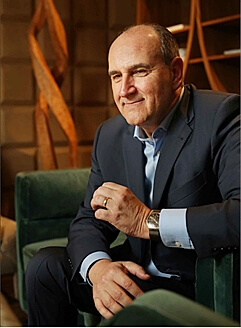 "John understands that truly great leadership always starts on the inside. More than that, he is a master of helping people discover and cultivate their innate leadership potential through advice that is both practical and profound. His new book beautifully illuminates the heart of great leadership through seven secrets that can have the biggest and brightest impact on the world."
-Deepak Chopra, author, You Are the Universe
Using the unique LevellingUp model, each ILAG shares the cost of John Mattone's coaching fee across a small group of participants, making the experience affordable for all. And, our VIDEO CONFERENCE platform means you can grow your leadership skills anywhere, anytime!
THE INTELLIGENT LEADERSHIP®
ACCELERATOR GROUP (ILAG)
Limited to 8 High-Achieving, "Game-Changing" Leaders
You will experience the exact same CEO Intelligent Leadership Executive Coaching that has made John Mattone one of the most in-demand, successful and highly paid CEO coaches in the world;
You & your organization will pay a mere fraction of his typical fees ($3,950 USD vs $250,000+ USD if John coached you one-on-one) if you were to complete your 24-week ILAG journey;
You will learn from other like-minded leaders who are members of this exclusive group; and
You will receive the prestigious Intelligent Leadership Master Certification (ILMC). Achieving the ILMC from John Mattone and John Mattone-Global, Inc., is a special honor as it reflects that you are now well prepared to lead yourself and those around you to new heights, create greater enrichment for others and because of this more enrichment for themselves—and, pave the road to leave a legacy that lives forever.
Limited Spots Available! Get on the Wait List Today!
GET ON THE WAIT LIST TODAY!
THE INTELLIGENT LEADERSHIP®
ACCELERATOR GROUP (ILAG)
INTELLIGENT LEADERSHIP EXECUTIVE COACHING PROCESS
4 Powerful Phases & 7 Game-Changing Pillars
AWARENESS | ASSESSMENT | ACTION | ACHIEVEMENT
Successful executives don't invest in executive coaching. They invest in results.
When you join ILAG you will experience John's proven CEO Intelligent Leadership executive coaching process as if you had hired John to work with you one-on-one, but for a mere fraction of the investment.
You'll be part of an exclusive family of talented leaders who will be coached and mentored by John but who will collaborate and cross-mentor each other which will enable you and your fellow Mastermind members to grow stronger leadership skills.
New learning. Everyone in ILAG is immensely talented, unique in skill, experience and connections.
Being a member of John Mattone's ILAG will give you the power and skills to think differently, think bigger and will stretch you well beyond what you thought you were capable of achieving; you will be enriched by your fellow ILAG members, a powerful and proven coaching process and, John himself.
You'll receive John's bestselling new book, The Intelligent Leader: Unlocking the 7 Secrets to Leading Others and Leaving Your Legacy (October 2019)—the #1 new management book of 2019, #6 best new leadership book to read in 2020, and 52nd best leadership book of all time. In addition, being a John Mattone's ILAG Member provides you continuous access to his articles, tools, and templates that will help you achieve your greatest aspirations professionally and personally.
Because of LevellingUp, leaders at all levels have the opportunity to experience John's powerful, proven CEO Intelligent Leadership (IL) executive coaching utilizing a "virtual gathering " format (i.e., Zoom) where you and fellow ILAG peers share ideas, perspectives, challenges, successes and setbacks under the masterful mentorship of John Mattone are the core benefits of your membership.
John's IL executive coaching works because it delivers results. You will get better as a person and leader. ILAG is about results. Igniting members to visualize achieving bigger and better results and then executing with accountability is at the very core of what we do together. You will discover that ILAG members are "real people" who are incredibly successful, who want to become even more successful.
John Mattone's Law #5
The Key to unlocking your massive potential is making the decision to be vulnerable.
John's ILAG is about vulnerability. Every member is required to share their victories as well as their embarrassing failures in great detail. You have to be willing to share.
And, executing on a single strategy from ILAG will 100x return your entire investment in a moment.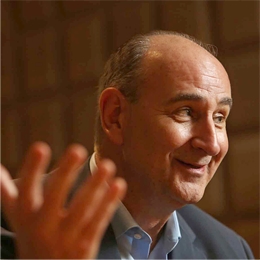 From John Mattone
If you enroll in ILAG, I guarantee it will be a game- and life-changing experience for you and me. It will be a privilege for me to welcome you into our ILAG family, get to know you well, and help you with my full heart, mind and soul so you achieve your vision and bring greater abundance to the world.
With Respect,
John Mattone and the John Mattone-Global FAMILY
24 1-hour virtual ILAG sessions divided into three progressive 8-week segments: Introduction to Intelligent Leadership-ILAG 101, Intermediate
Intelligent Leadership-ILAG 201; Advanced Intelligent Leadership-ILAG 301.
At the conclusion of the 24-week journey, you are awarded the coveted Intelligent Leadership Master Certification.
Progressive pricing:
— ILAG 101: $990 USD
— ILAG 201: $1,450 USD
— ILAG 301: $1,850 USD
— Or, buy ILAG 101/201/301 for $3,850 USD (a 10% discount)
Each virtual session you will be coached by John Mattone himself and he will lead/facilitate the interactive session.
Every session will start with John Mattone sharing a key concept, idea or philosophy about Intelligent Leadership (15-20 minutes), followed by John facilitating an interactive discussion with the cohort of 8 high-achievers.
Through the sharing of the concept and sharing of ideas by the Members—under the masterful coaching of John and support of the peers, everyone leaves each session with new ideas, expanded perspective, new strategies, the courage to try out new behaviors in their roles, and the motivation and new skills to ignite positive change in themselves, their teams and their organization.
Every session will end with a summary of key learnings and take-away's and a 30-minute homework assignment, some of which will be short readings and/or applying the learning from the session back in your role and journaling results and perceived impact.
Attendance Policy: You must attend a minimum of 5 weekly sessions in each semester. We recognize that schedules shift and everyone is busy,
however, your commitment to your own leadership growth and the growth of your peer members and, in fairness to yourself and your fellow members, your consistent attendance will benefit everyone as well as the culture of the cohort.
What is the ILAG Roadmap?
(see Semester Content Below)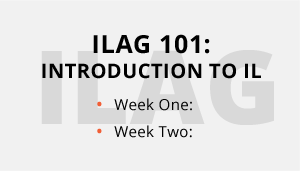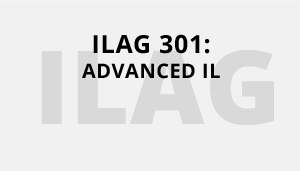 What is the ILAG Investment?
You have the option to progress from ILAG 101 to ILAG 201 to ILAG 301 and earn your Intelligent Leadership Master Certification. If you select this option, here's your investment:
— ILAG 101: $990 USD
— ILAG 201: $1,450 USD
— ILAG 301: $1,850 USD
Or, receive a 10% discount investing in ILAG 101, 201 and 301 for $3,850 (USD) for 24 sessions over 6 months working with John Mattone, the world's top executive coach. That is $160 per session!
If you and your organization engaged John Mattone privately for one-on-one executive coaching, you would pay $100,000+ (USD).
JOHN MATTONE CLIENTS & TESTIMONIALS
In his leadership coaching sessions with me, as CEO and our executive team, Mr. John Mattone provided us with a clear understanding of the principles of his intelligent leadership coaching philosophy and process, but above all he delivered various ideas, methods, and practical applications combined with his structured coaching process that resulted in me becoming a better CEO, our senior leaders becoming better and our organization becoming more effective.
I thank Mr. John Mattone for his high level of commitment and inspiration, which let the spark jump in our organization's success. I thank him for his outstanding executive coaching performance and his convincing way of illustrating breakthrough ideas that has led to real behavioral change and improved results. I recommend Mr. John Mattone to all companies and teams that have ambitious goals, who want to continue their development and achieve concrete results.
– Wendelin Zellmayer,
CEO-Rising Tide, Schaffhausen, Switzerland
I like to define my Coaching experience with John as a non-intrusive journey in self- discovery. It was great to discover my development areas as a leader, but to understand my strengths and how I can use them to potentiate me as a leader. I always prided myself on the strength of the teams I have assembled and surrounding myself with great talent as drivers in achieving good things together. But, having the opportunity to work with John allowed me to get closer to my team. I learned about vulnerability and humbleness and how important they are to demonstrate as the CEO, and how they can impact performance as a team. Today, I can say that because of John's coaching we have established a foundation to be great, to face our challenges together, and that we are a much stronger senior team.
One of the things that I appreciated the most was how he structured the entire coaching process and how engaged he was. His personal commitment to have face to face sessions not just with me, but with my entire leadership team in order to get a very good understanding of the business we operate, our challenges as a team, but also of the industry we operate in.
– Armando Uriegas,
CEO-Director General, Nielsen LATAM
ILAG 101: Introduction to Intelligent Leadership
1. What is Intelligent Leadership?
2. Inner-Core Drives Your Outer-Core
3. Mattone Leadership Enneagram Inventory®**
4. Knowing the Traits that Help and Hurt You
5. Building Your Go-Forward Strategy
6. Sharing Your Go-Forward Strategy
7. Your Leadership Story
8. Sharing Your Leadership Story
**ILAG members will take the MLEI prior to Semester One
ILAG 201: Intermediate Intelligent Leadership
1. Your Core Purpose & Creating Your Core Purpose Statement
2. Thinking Differently and Thinking Big
3. The Vulnerability Decision
4. Leveraging Your Gifts/Addressing Your Gaps
5. The Courage to Execute
6. Being Vigilant
7. Course-Correction
8. Duty vs. Entitlement Mindset
ILAG 301: Advanced Intelligent 
1. Sharing Your Core Purpose Statement
2. John's 50 Laws of Intelligent Leadership—Review 1-10
3. Review Laws 11-20
4. Review Laws 21-30
5. Review Laws 31-40
6. Review Laws 41-50
7. The 4 A's (altruism, affiliation, achievement, abundance): The Keys to Leadership, Life and Legacy
8. Sharing Key Learnings and Your Go-Forward Plan