John Mattone's Intelligent Leadership was named one of
the three Top Advanced Leadership Development
Programs that Change Lives.
John Mattone is the #1 authority on Intelligent Leadership, the world's top executive coach (and, the former executive coach to Steve Jobs). The Intelligent Leadership 2.5 Day Retreat, based on John's global best-sellers—Intelligent Leadership (2013) and The Intelligent Leader (2019), is an intimate and in-depth retreat where high potential and established leaders will discover and drive their personal framework for leadership and personal success.
WHAT MAKES THIS LEADERSHIP RETREAT UNIQUE?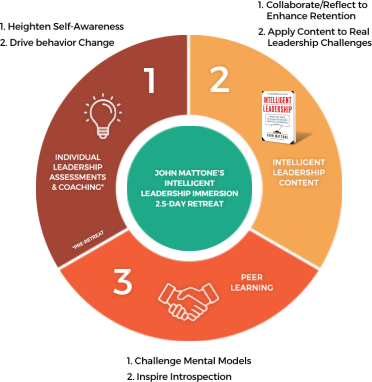 Immersive, personalized leadership development experience leveraging John Mattone's coaching and content, peer learning, and deep personal introspection.
Team-building beyond the classroom: intimate peer-to-peer and action-learning event.
Explore and discover your Core Purpose and translate this learning into actionable steps that ignites your full potential.
Discover the strength and vibrancy of your inner core and learn to translate this learning into driving greatness in your outer core (how the world sees you).
Map your own leadership style to the traits on the Wheel of Intelligent Leadership.
Take the powerful Mattone Leadership Enneagram Inventory (MLEI), to uncover the leadership traits that are working for you and against you.
Optional: Supplement your MLEI results with the California Psychological Inventory-260 (CPI-260) and John's proprietary Strategic-Tactical Leadership Index-360 (STLI-360).
Debrief your MLEI results (as well as your CPI-260 and STLI-360 if this option is selected) in a private executive coaching debrief session with John Mattone.
Exit with a full Individual Leadership Development Plan (ILDP) and roadmap for leveraging your leadership gifts and addressing your gaps.
Complete the immersive experience with John Mattone's proprietary post-retreat private coaching session and stakeholder survey, LeaderWatch, to measure your leadership improvement and debrief your survey results with John.
Relaxed, private reception and dinner for participants with Coach John Mattone.
Retreat includes a 2.5 day workshop, pre-program assessments, coaching sessions, tools and resources, all program materials, a copy of John's bestseller, The Intelligent Leader, and private welcome dinner with John Mattone.

"The IL 2.5 Day Retreat afforded me the opportunity to learn about myself. For many, taking an introspective look at oneself is something most speak of doing but few have achieved much less realized the benefits of. I am fortunate to have had the opportunity to discover and take advantage of my strengths while also work on my weaknesses through this Program, tools and powerful coaching."
—Rene Silva, General Manager, OrthoDenco Labs
"With my ILEC's Coach's guidance and support, I crafted a well-thought out plan that led me to reach my goal of becoming a Vice President of Marketing at least 7 years sooner than what I had expected. From becoming a published author to having a seat at a board to being a moderator at a panel, my hefty goals are at my reach by continuing to work on my IDP objectives with clear vision and confidence. My ILEC Coach was a wonderful teacher and true leader who wants his students to live up to their potential. I'm forever grateful."
—Ana Albert, VP of Marketing, Association of Latin Professionals for America
In an era where many are claiming to have the "magic bullet" for personal and interpersonal effectiveness, John presents an original and creative approach that speaks for itself. With his way to teach and interact with people, he impacted me deeply at the most important inflection point of my professional and personal life. I recommend you to try this course out. You may well discover it offers the help you need to truly transform yourself from the inside out.
– Scientific Director
Center for Biomedicine in Bolzano, Italy
"Delivered with an unmatched style, John's powerful coaching methods impacted me deeply, creating an enduring awareness of my inherent talents which have since been fueling both my personal and professional life."
—Fabio Potenti, MD, Chief Medical Operations Officer, Cleveland Clinic-Florida
Pre-Retreat | Assessment & Executive Coaching
Prior to entering the retreat, all participants will take the proprietary Mattone Leadership Inventory Assessment – a powerful leadership assessment tool that builds the framework and roadmap for exploring and distinguishing the executive maturity of your "inner-core."
Participants will be scheduled for a 1-hr private Executive Coaching session to debrief on the assessment results and gain an understanding of individual leadership maturity and your unique leadership footprint.
---
DAY 1 – Roadmap to Leadership Success
How you need to think (and act) differently towards leadership in a VUCA (volatile, uncertain, chaotic, ambiguous) world.
Day 1 will focus on how you can become a role model of leadership, gauging your level of executive maturity, understanding the "Wheel of Intelligent Leadership" and pull it all together into your own leadership framework.
AM Session
Your Leadership Success Roadmap
Understanding Your "Inner" & "Outer Core" in More Depth
PM Session
Understanding the "Map of Executive Maturity"
---
DAY 2 – Peer Learning Activities
Learning is retained through collaborative critique and application to real-life situations.
AM Session
Your Leadership Story – a Peer Learning Activity
Understanding Your Leadership Inventory Results
PM Session
Building Your Predominant Traits – a Peer Learning Activity
Building Your Least Mature Trait -a Peer Learning Activity
Homework
Attendees will prepare an Individual Leadership Development Plan (ILDP) using the insight gained from Day 1 of the workshop assessment results, peer learning, feedback from Coach Mattone, and reflection throughout the retreat.
---
DAY 3 – Individual Development Areas
Leadership strengths, development and action-plans are finely-tuned.
AM Session
ILDP Presentations and Debrief
ILDP Key Learnings
Post-retreat Accountability and Sharing with Key Stakeholders
Retreat Conclusion | Presentation of Certificates
---
3 Months Post-Retreat: Measuring ROI and Retreat Impact Using ILEC's LeaderWatch® Survey
Accountability for leadership growth and development through stakeholder involvement and feedback.