Achieve the Life You Deserve with the #1 Leadership Coach in the World!
THE INTELLIGENT LEADER MASTERMIND RETREAT with John Mattone.
OCTOBER 13-16, 2020 | The Wilderness Resort, Disney World, Orlando, FL.
LIMITED TO 25 HIGH-ACHIEVERS!
John Mattone is the #1 authority on Intelligent Leadership, the world's top executive coach (and, the former executive coach to Steve Jobs). The Intelligent Leadership 2.5 Day Retreat, based on John's global best-seller, is an intimate and in-depth retreat where high potential and established leaders will discover and drive their personal framework for leadership and personal success.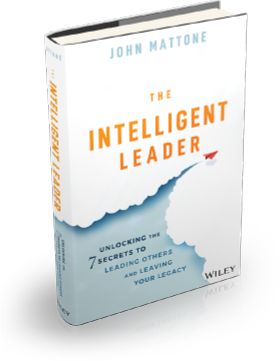 Ignite Your Inner-Core. Grow Your Leadership.
Enrich Your Life. Leave a Lasting Legacy.
Ignite a bigger vision for yourself and create actionable plans that will help you realize the life you deserve in this transformative four-day retreat working with John as your personal coach.
"John understands that truly great leadership always starts on the inside. More than that, he is a master of helping people discover and cultivate their innate leadership potential through advice that is both practical and profound. His new book beautifully illuminates the heart of great leadership through seven secrets that can have the biggest and brightest impact on the world."
-Deepak Chopra, Author, You Are the Universe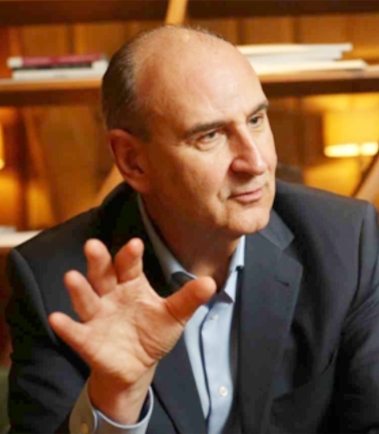 I WILL HELP YOU.
I WILL CHALLENGE YOU.
I WILL SUPPORT YOU.
It will be my privilege to help you become the best leader and person you CAN become and MUST become.
Dear Friend,
Congratulations on taking a big step—actually, a quantum leap—toward igniting your inner-core, growing your leadership, living a more abundant life, and securing your legacy. I have come to believe nothing else in our lives matter, other than committing with deep purpose and focus to these four pillars. The essence of who I am and how I have grown my reputation to be known as the world's top executive coach, the "coach of coaches" and one of the top global leadership authorities and speakers (all said with deep humility), is because I finally committed (in 2010 at 54 years old) to embracing these pillars. Yes, better late than never!
It took me a long time…
to recognize that the "secret" to my own achievement and fulfillment—in life and professionally, was connected to embracing and mastering these foundational pillars. Along the way, I was able to discover that the most important and powerful pillar was my inner-core and, once I learned to "go deep" and connect with it, embrace it, and learn about it and from it—my life changed! I discovered the ultimate "ignitor" to everything that matters in life is determined entirely by the strength, maturity and vibrancy of our inner-core. I have learned that if our character, values, self-concept, thinking patterns and emotions are strong, there is always positive "spill" to our "outer-core", which is what the world sees. The key to our performance, achievement, reputation, and the results we get in life and business, is all ignited from within. As I have grown, I have learned to strengthen my own inner-core, which has fueled my own mastery of the pillars and now my life's work is dedicated to helping others do the same. As you learn more about me and my company—John Mattone-Global, Inc., I am confident that you will see that we are here to help you get started on (and master) this exciting growth journey with me and our team as your coach, mentor and guide.
Don't' make the mistake I made…
which was committing—late in life, to discovering the "secret" to my own fulfillment. Now that you know my "secret", I encourage you to act now. Don't make the other big mistake many leaders make–trying to navigate this journey alone. Life, leadership and business is way too tough nowadays to try to go it alone. You owe it to yourself, your family, team and organization to be fully poised and prepared to meet and solve any challenge that comes your way. Let us help!
APPLY TODAY to attend!
"I am thinking big in my life, but I have no idea I am thinking about the right big."
"I wish I knew why I was on the Earth."
"I wish I really knew my strength and gifts."
"I wish I really knew my weaknesses."
"I want to bring greater abundance to the world, but how?"
"I want to be an incredible role model for my family and team at work,
but I need ideas and strategies to make this a reality."
---
Get Elite One-On-One Coaching from John Mattone and His Master Certified Coaches to Help You Solve These Challenges!
---
Join me, Sue Ryan, Platinum Elite Master Certified IL Coach and Master Trainer at John Mattone-Global, Inc., and other hand-selected IL Certified coaches, on a powerful 4-day retreat that will have game-changing consequences for your business and personal life.
You and an exclusive group of 24 other successful high achievers will have nearly unlimited access to me, my experiences, my expertise and my inner-core (my "soul") as well as Sue's and our other IL coaches expertise and soul.
You will gain tremendous insight as well from your peers, other like-minded high-achievers who want to achieve more in their life so others benefit.
---

Best of all, you'll complete this transformative work in the beautiful, tranquil Wilderness Lodge at Walt Disney World in Orlando, just 30 minutes from John's home.
"In an era where many are claiming to have the "magic bullet" for personal and interpersonal effectiveness, John presents an original and creative approach that speaks for itself…"
– Prof Peter Pramstaller, MD
In an era where many are claiming to have the "magic bullet" for personal and interpersonal effectiveness, John presents an original and creative approach that speaks for itself. With his way to teach and interact with people, he impacted me deeply at the most important inflection point of my professional and personal life. I recommend you to try this course out. You may well discover it offers the help you need to truly transform yourself from the inside out.
– Scientific Director
CENTER FOR BIOMEDICINE IN BOLZANO, ITALY
What You'll Achieve During this Powerful 4-Day Retreat
DISCOVER YOUR CORE PURPOSE & CREATE YOUR CORE PURPOSE STATEMENT MASTERPIECE THAT WILL GUIDE YOUR EVERY DECISION AND ACTION FROM THIS DAY FORWARD.
DISCOVER YOUR DEEP INNER-CORE STRENGTHS SO YOU START TO LEVERAGE THESE GIFTS IN YOUR BUSINESS AND LIFE.
UNCOVER YOUR DEEP "HIDDEN" WEAKNESSES THAT ARE HOLDING YOU BACK FROM ACHIEVING EVEN BIGGER AND BETTER BREAKTHROUGHS IN YOUR LIFE.
CREATE A PLAN TO ACHIEVE YOUR MOST AMBITIOUS GOALS.
GET MY PERSONAL INSIGHT AND FEEDBACK ON YOUR VISION AND PLANS
LEARN TO TAKE COURAGEOUS ACTION, WITH PASSION, PRIDE & PRECISION.
---
Be one of the 25 applicants invited to attend
---