THE WORLD'S #1 EXECUTIVE COACHING AND BUSINESS COACHING BLOG SINCE 2017.
Are leadership development programs worth the investment? What about online leadership programs?
For some executives, leadership training has yielded handsome benefits. According to a Careerbuilder.com article published by CNN, others feel they did not receive a satisfactory return on their leadership development investments.
The complaints and positive feedback make it clear: leadership development programs work as long as they are well-designed, practical, scalable, time efficient, relevant and affordable.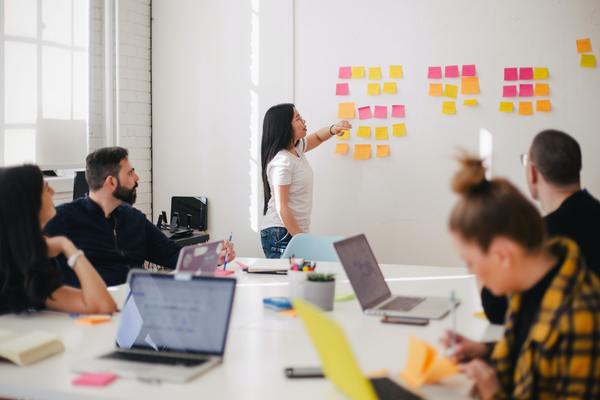 Top leadership training programs work. 
What are the hallmarks of an elite online leadership development program? To meet the bare minimum requirements in this respect, a leadership development program needs to be:
Relevant
Timely
Practical
Scalable
Action-based
To ascend to the top category, the program also needs to deal effectively with the most common shortcomings of leadership development efforts. Thus it has to:
Take proper aim
Use an effective and practical approach to transmitting knowledge
Focus on the immediate application of newly-learned concepts
Provide accountability
Relevancy and Timeliness
Cookie-cutter leadership training programs address a seemingly random soup of leadership skills. Such mass solutions do not work. Everyone's leadership journey is unique and personal.
In this age of VUCA (volatility, uncertainty, complexity, and ambiguity), some leadership skills have gained value. Innovation, agility, the willingness to harness cutting-edge technologies, and responsiveness to change have all become antidotes to VUCA. However, nothing beats strong leadership, coupled with the ability to ignite passion in employees and managers.
Practicality and Scalability
Practical leadership training programs are scalable. They are flexible performance-wise and cost-wise, so learners can adapt them to their needs.
We have designed ILOA (Intelligent Leadership Online Academy) with scalability and practicality in mind.
Featuring a highly actionable roadmap of learning, ILOA does not require onerous time commitments, virtual classrooms, or webinars.
Action-based Learning
Habit formation happens as a result of practicing a skill in real-life situations. In ILOA, action-based learning has a central role. Theoretical learning, in the form of short bursts of compelling content, only makes up 10 percent of the program. Seventy percent of learning occurs as a result of the real-life application of concepts. The program requires participants to put newly-learned concepts into practice right away.
Taking Proper Aim
While classic leadership training programs miss the mark by focusing on outer-core leadership skills, ILOA addresses the habits and the mindset needed to ignite the outer–core.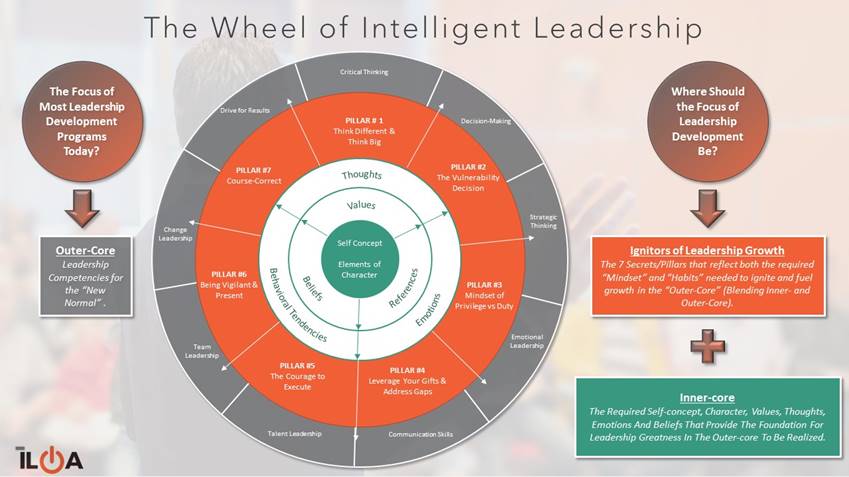 Elite leadership programs aim at the inner-core.
A Practical Approach to Training
E-learning and online classroom experiences have grown increasingly stale over the last year.
An elite leadership training program like ILOA, provides knowledge on-demand, allowing participants to easily locate specific concepts, and then delivers the required information in quick, easy-to-digest bits.
Immediate Application and Feedback
Elite training programs provide opportunities for learners to apply newly-learned concepts to real-life situations right away. They then offer immediate feedback on applications, in a sort of instant gratification loop that delivers stellar results teaching-wise. ILOA participants have ongoing online access to one of our certified executive coaches so they gain immediate insight and feedback based on their responses to the action-based challenges embedded throughout their 10 week ILOA development journey.
Measuring Results
Most online leadership training programs fall woefully short accountability-wise. The best programs go to extra lengths to provide various tools for learners to assess their progress and ROI.
ILOA augments progress reports and post-program measurements with gamification, adding an interesting, playful twist to accountability.
To learn more: Intelligent Leadership Online Academy (ILOA) and The Future of Leadership Development, Now.