The World's #1 Executive Coaching and Business Coaching Blog (2017-2021)
Business speakers inspire, educate, entertain, and share actionable knowledge. Millions seek ideas, fresh perspectives, and inspiration from the best business speakers in the world. Here's a look at today's top business speakers and the unique services they provide to those who hire them.
"Only the prepared speaker deserves to be confident." – Dale Carnegie.  
Good business speakers electrify audiences, answer questions, and have an uncanny ability to simplify complex subjects. They use humor in their delivery, entertaining while educating.
Who are the best business speakers today, from the perspective of leadership coaching? As a leadership coach and professional speaker, I am often asked whom I would bring in as a dream speaker for an event with a theoretically unlimited budget.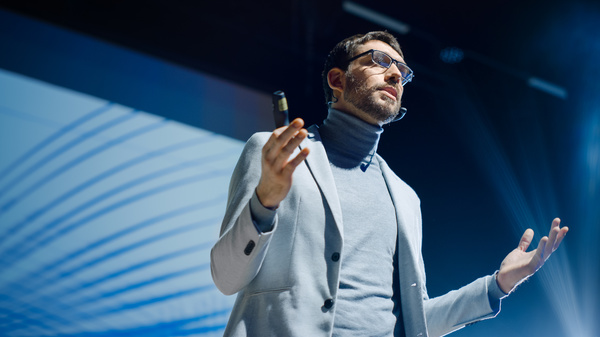 Business speakers entertain, educate, inspire, and spark action. 
In addition to top-notch business speaking skills, the world's best keynote speakers may leverage another asset: the influence their celebrity status lends them. While some of the keynote speakers on my list are only celebrities in keynote speaking circles, others are well-known world-over for other reasons.
Sir Richard Branson
Far from being "only" one of the best business speakers in the world, Sir Richard Branson is one of the richest and most famous entrepreneurs. He has plenty of relevant life experience to use as a source for the points he makes in his speeches.
The founder of Virgin Group, Branson is the only person in the world to have gone to space using his own spaceship. A true trailblazer and visionary, as well as the author of several best-selling books, Richard Branson is an outstanding wordsmith and presenter.
Richard Branson's speaking fees are among the highest. His magnetism is certain to arouse massive interest and attract thousands.
Steve Wozniak
In 1976, Steve Wozniak partnered with Steve Jobs to bring personal computing to the masses. The two visionaries created the foundations of what would become one of the most significant technological leaps in the history of humanity.
Wozniak was personally responsible for the first product of their partnership, the Apple I. Later, as their organization grew and onboarded new talent, he took on a managerial role.
Having ended his active involvement with Apple in 1985, Wozniak became a philanthropist, eager to make his vast experience available to the masses. He is a Bitcoin advocate and a worthy member of the Inventors Hall of Fame.
Founder of the Electronic Frontier Foundation, and sponsor of establishments like the Children's Discovery Museum of San Jose, Wozniak offers expert insights on entrepreneurship, innovation, creativity, and education. His presentations are unforgettable.
If you want The Woz to speak at your event, you'll have to pay a considerable sum.
Simon Sinek
For leadership coaching specialists, Simon Sinek is a global celebrity. An expert in organizational culture and leadership matters, Sinek has been an inspiration for executive coaching professionals for years.
Sinek's intellect and visionary thinking are unparalleled. A firm believer in a bright future, Sinek's approach to life, leadership, and business speaking is infused with unshakable optimism.
His leadership-focused TED talks have garnered millions of views. Sinek has introduced several key concepts to business coaching and leadership development.
Tony Robbins 
Anthony J. Robbins is a business speaker well-known for his dynamic, engaging presentations and leadership expertise. Focusing on personal development, Robbins worked with celebrities like Serena Williams, Maria Menounos, and Marc Benioff.
Organizations seek Robbins' speaking services due to his expertise in business coaching and leadership development.
Duncan Wardle
Head of Disney's Innovation and Creativity department from 2011 to 2017, Duncan Wardle is an outstanding virtual and real-life keynote speaker. Entertaining audiences as he educates them, he likes to focus on out-of-the-box thinking, innovation, creativity, and customer experience.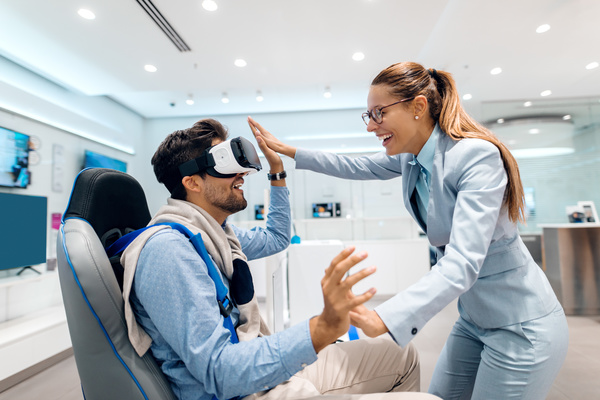 Customer experience is one of Disney's "secrets" to success. 
Organizations big and small seek Wardle's services to gain a peek into Disney's success and adapt the formula to their needs, hoping to replicate the results.
Marshall Goldsmith
An award-winning author and editor, Marshall Goldsmith is a household name in leadership coaching. In addition to serving on the Board of the Peter Drucker Foundation and volunteering as a teacher for the Girl Scout Executives and International and American Red Cross leaders, among others, Goldsmith has gifted the leadership development industry landmark books like " What Got You Here Won't Get You There" and "The Leader of the Future."
Good business speakers share expertise and knowledge while inspiring and motivating their audiences. They bring new ideas and perspectives, and they create networking opportunities.
As an established business speaker myself, I am committed to continuous improvement. I seek to learn from my speaking experiences and reach out for feedback every time.  I'm always ready to engage audiences by answering questions. I change the tone of my presentations as the audience dynamic dictates.