The World's #1 Executive Coaching and Business Coaching Blog (2017-2021)
Why You Should Hire A Keynote Speaker For Your Corporate Event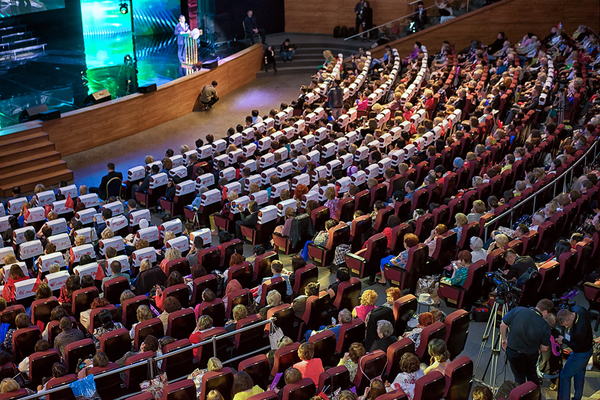 Whether it's a corporate event, company retreat, graduation commencement, or banquet, it's essential to have a keynote speaker present to take your event to the next level. A seasoned keynote speaker can have the ability to build and incorporate different themes and elements into one coherent message that will leave your guests feeling inspired and determined for greatness. Keynote speakers, or motivational speakers, have the unique ability to draw the attention of any crowd to engage and captivate them with their eloquent speaking skills. These speakers can lead conferences and corporate events with riveting ideas about personal topics, career, and the success of your business as a whole. Want to properly kick-off your next company event? Consider bringing in a professional keynote speaker to uplift and inspire your audience.
The Advantages
In addition to offering entertainment and inspiration, motivational speakers offer a plethora of benefits for businesses and their audiences. This is especially true if your keynote speaker happens to be someone well-known to the public. With the right keynote motivational speaker, you'll find that your attendance numbers will experience a significant boost–promoting success for your event and your business as well. Let's take a closer look at the other countless advantages of hiring a keynote speaker for your corporate event:
Changing Perspectives: In any speech they deliver, a seasoned motivational speaker has the unique ability to bring different perspectives into their presentation. With changing perspectives, the speaker can present ideas so that the audience can see things much differently. This allows individuals to see their perceived challenges into new opportunities, or to approach something with more simplicity than complexity. Far too often, obstacles in our lives are too close to see clearly, needing for us to take a necessary step back to see the whole picture. Motivational keynote speakers can provide individuals with the kind of perspective that allows them to do just that.
Build Audience Energy and Inspiration: The right motivational speaker can truly build energy in a room of curious, even skeptical, individuals. Through their excellent speaking skills, keynote speakers help their audience inspire belief in their skills and abilities. In turn, these individuals start to see the success and capabilities that live within them. Most importantly, keynote speakers can help shine a light on the ways necessary to make the business they work for, the people they work with thrive as a whole.
Grow a Community: In any corporation, there are many departments that work as a team to yield success for their corporation. While everyone does their best to work together, spans of departments can result in disconnection–information and tasks slipping through the cracks. The right keynote speaker can work these problems into the spoken content they impart on the audiences they speak to. Keynote speakers can show workers how to come together as a team and grow their departments into one whole community.
Bring Forth New Techniques and Ideas: Motivational speakers are superb at relaying new ideas and techniques to their audience. This allows individuals and companies the advantage of freeing themselves from static work that comes from stagnant thinking. Motivational speakers can lead businesses and workers down the path of innovation and success.
They Show Your Investment In Your Employees: A motivational speaker is there to inspire the minds of those who attend the event at hand. These speakers are trained to share new techniques, the latest thinking, and motivate employees to thrive in the workplace. These types of events can truly shine a light on the care and value you have for your employees. Your team will be able to see how important their career development is to you as an executive leader. In turn, workers will be more inclined to work harder and more efficient knowing that they are worth so much in the eyes of their employers.
In their presentations, motivational speakers exude authority and respect which allows them to have the full attention of their audiences. With their full attention, they can spread awareness of the overall message of their speech. A speech that resonates with those who listen is one that boasts the most success. Since the goal of this event is to get employees and individuals focused, motivated, and steered towards the path of success, it's essential to have a keynote speaker deliver an empowering speech at your next conference or event. One of the best investments you can make is one that truly benefits your employees, and a keynote speaker can do that and more for your company.
Hiring a Keynote Speaker for Your Corporate Event
As a motivational keynote speaker is a major factor in the success of your event, it's essential that you do your do-diligence and locate the best speaker for the job at hand. When searching for the perfect keynote speaker, be sure to establish the date, location, and budgetary needs of your upcoming event. This is the first step in determining what speakers will be available to you in your specific time and budget frame. You'll also want to consider at what time of day you will be holding your event, as some speakers excel at imparting their presentations in different atmospheres. For example, many speakers excel at delivering their presentations at workshops, or after dinner where they can incorporate the right doses of humor. On the other hand, many speakers are better at delivering morning speeches that are filled with energy and liveliness. These factors are very important to consider when hiring the right keynote speaker.
Of all, hiring a keynote speaker for your next corporate event will only grant your company the credibility it deserves. You'll be able to successfully maximize your business results with the right keynote speaker at your event.