The World's #1 Executive Coaching and Business Coaching Blog (2017-2021)
Coaching-focused leadership develops systems that improve employees and help them fulfill their potential. In leadership coaching, we call such systems coaching-focused organizational cultures. Coaching is an integral part of intelligent leadership, and successful leaders have long used it as such.
Successful leadership coaching helps leaders achieve their full potential through active listening, skillfully formulated questions, and informed insights. It's becoming more obvious successful leadership means leaders must be good at coaching reports.
Intelligent leaders who act like coaches and promote cultures of coaching in their organizations set up their followers and companies to succeed.
Coaching permeates every aspect of successful leadership. 
Leadership coaching can help leaders achieve success in many areas like:
Executive presence
Transformational leadership
Leadership performance
Emotional intelligence
Change leadership
By helping leaders address individual needs, executive coaching promotes leadership effectiveness in addition to personal growth and organizational performance.
Here are some examples of how a coaching mindset helped celebrities and business leaders impact countless lives.
Oprah Winfrey
Oprah is a well-known television personality whose leadership skills exceed the appeal of her celebrity status. She is a living, breathing example of an executive coaching mindset. People can learn much about leadership by watching Oprah interact with her guests and direct her public affairs.
Oprah's most obvious intelligent leadership skills are communication, honesty, and empathy. She's adept at building trust and is a fearless risk-taker. She makes her followers want to assume risks and take chances to create the best lives they can for themselves, and she does what she preaches. She's a living testimony to how compassion, honesty, and warmth can bring about success in one's career and personal life.
Clear and concise communication is a leitmotif of intelligent and successful leadership.
Warren Buffet
Warren Buffet is another exemplary leader whose leadership superpowers reside in communication skills. Buffet is a master of building meaningful relationships with the people with whom he works. Though some may consider business coaching a more suitable lens through which to analyze his business performance, a coaching mindset is an undeniable part of his success recipe.
Good coaches build relationships. Buffet has always been known for getting to know his reports and peers on personal levels.
Communication-wise, the Oracle of Omaha always finds it easy to explain complex concepts to others in a simple manner.
Aside from communicating clearly and building trust effectively, Buffet also values lifelong learning and focuses on long-term success over short-term accomplishments.
Richard Branson 
Sir Richard Branson is the embodiment of the transformational leader who uses coaching to achieve leadership objectives.
Branson's coaching-focused leadership style includes setting lofty goals and helping people rise to the occasion. He motivates employees and managers to constantly strive to become better versions of themselves.
In addition to constantly motivating people, Branson encourages them to reach higher and make mistakes if necessary as part of the learning curve.
"You don't learn to walk by following the rules. You learn by doing and by falling over." – Sir Richard Branson. 
Branson is also a top-notch communicator, and he grants managers and executives enough autonomy to keep them engaged and empowered.
"I believe in benevolent dictatorship provided I am the dictator." – Sir Richard Branson. 
For all his leadership qualities, Sir Richard Branson is not the archetypal servant leader. Instead of serving others, he forms collaborations and builds meaningful relationships with those who can help him reach goals.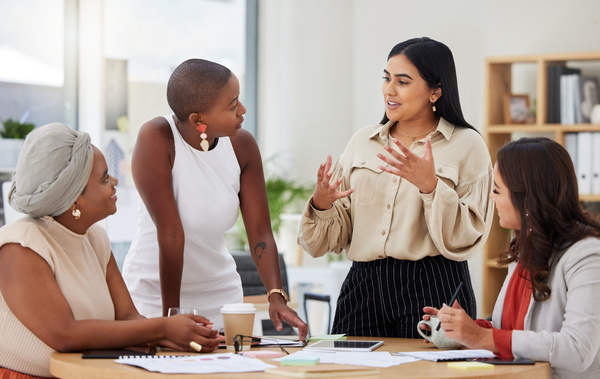 Coaching takes servant leadership one step further. 
Branson's leadership style is not typical. His focus on coaching and a culture that values coaching betrays his deep understanding of how coaching can help people and organizations succeed.
Coaching-focused leaders have a few qualities in common. They can:
Clearly communicate expectations and goals
Provide employees with resources they need to meet said goals
Provide regular feedback and encouragement
Create environments of psychological safety where employees can experiment without fearing failure
Business coaching professionals understand the importance of creating systems that scale and develop personnel. Coaching-focused leaders create such systems through the organizational cultures they implement and sustain.