THE WORLD'S #1 EXECUTIVE COACHING AND BUSINESS COACHING BLOG SINCE 2017.
Creating a Sustainable Organization through Succession Management
February 1, 2013 | Category: Blog, Succession Planning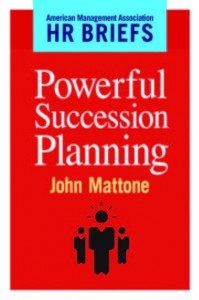 Having great leaders and a bench of future great leaders is the foundation for building and sustaining a great organization. Although this has always been true, never in recent history has the need for outstanding leaders been more acute than it is today. In today's challenging economy, CEO's and senior executive teams are facing enormous challenges when it comes to achieving and sustaining breakthrough operating results.
Globalization, economic change, more stringent regulation, and tougher governance make realizing shareholder value increasingly difficult. In the midst of these massive challenges, all organizations– urgently, need leaders who possess both a strong "inner-core" of character and conviction and "outer-core" of leadership capability who can think creatively, but critically, strategize effectively and respond with speed and competence to high-pressure situations. But if its' current leader identification and development practices do not change quickly, most companies will lack the sufficient executive strength needed to meet its' operating objectives.
Current succession planning programs and processes in corporate America today are insufficient to do the job. The gap between those in senior executive positions and those prepared to move into them is widening by the day. And just as Boards and senior executive teams are beginning to recognize the problem, they are running into new demographic and workforce challenges that make the leadership crisis all the more challenging.
By some estimates, up to 40 to 70 percent of any organization's management population is currently eligible to retire. While aging thins the ranks of senior executives, other forces have contracted the pool of those available to take over the reins. Changes in many organization's pension systems are making it easier for executives to leave senior positions, while downsizing during the 1990s and 2000's have deprived many organizations access to some of the best and the brightest. Therefore, the succession planning debate is not only about the numbers; the quality and state of readiness of those who will take over leadership is also at issue.
A number of big and successful companies have taken action to upgrade their succession planning practices and address their leadership pipeline issues. Three companies that have made significant progress are GE, P & G, and IBM. Many others, such as FedEx, Office Depot and Navy Federal Credit Union have launched major projects to improve their succession planning practices. The record is mixed, however. In general, many large companies and most mid-sized and small companies are struggling with succession challenges. Most of America's federal agencies, in fact, are in the same boat. Most are struggling with these issues. There is little question, considerable work remains to be done.
Worthwhile programs such as accelerated leadership identification at the senior manager level are unsustainable if proper attention is not paid to the pipeline of talent currently filling those ranks. Such approaches can address short-term needs but tend to divert decision-makers' attention from the critical task at hand—building a sustainable talent identification, development and retention process that accounts for the demands of an workforce.
As part of well-crafted succession planning and leadership development programs, innovative practices such as job rotation, leadership development through coaching, mentoring, action-learning, and next-generation behavioral performance evaluation must all be considered. All of these practices, and other methods of identification and tracking of leaders, will be required to increase the speed with which organizations develop talent and close the widening leadership gap. On the bright side, some companies already have some of the tools they need to succeed. The challenge though is putting these and other innovative tools to use in a structured manner to build an enduring leadership succession program. One way to achieve this is by starting with a strong, compelling Succession Management Value Proposition.
The "Stealth Fighter" Model: The Power of Your Succession Management Value Proposition
The "Stealth Fighter" Model offers a compelling, symbolic way to understand the predictive relationships that exist between critical human capital/succession management processes (the 4 D's), critical "leading indicators" (capability, commitment and alignment—more on these later), intermediate outcomes and ultimate outcomes. The 4 D's essentially act as the 4 turbo-charged engines that propel the "Stealth Fighter" towards its' target—defined as an organization's "Future Desired State" and the required leadership competencies to execute both the current and future business strategy. By way of analogy—if the 4 engines are "well oiled" and functioning at a high level (i.e., optimized) and working together (i.e., integrated), they will propel the "Stealth" towards its' goal.
In practical terms, an organization's Succession Management Value Proposition (SMVP) is the holistic sum of the following practices: (1)Demarcation-performance management; (2) Diagnostic—objectively assessing leaders and potential leaders; (3) Deployment-structured meetings to integrate performance and potential assessments, calibrate capability, determine development options, and identify potential replacement scenarios; and (4)Development—coaching, on-the-job development and training programs
In addition, their relative impact on multiple levels of organizational outcome—such as capability, commitment and alignment (leading indicators), intermediate outcomes such as individual and team performance, bench strength, percentage of women and minorities promotions versus percentage in pool, percentage of women and minority successors, retention rate of successors, percentage of key positions filed internally, promotion rate of successors, success rates of those promoted and cost to fill key roles (lagging indicators), and ultimate outcomes such as organizational revenue, profits and operating ratios.
Regardless of the exact words used to capture a given organization's SMVP, one thing is sure, the elements identified in the "Stealth" need to be well thought out, believed in, communicated, executed, and measured (assessed)—continuously. At its core, a great SMVP encompasses everything leaders and future leaders experience and receive as they are employed by the organization—including the degree of engagement they experience, their comfort and "fit" within the culture, the quality of leadership, the rewards they experience, etc. A great SMVP always encompasses the ways in which an organization fulfills the needs, expectations, and dreams of leaders. More than anything, a great SMVP clearly connects winning succession management practices to business and operating metrics.
As was discussed earlier, there exists no better way to create the belief in the value of the human capital asset, than by demonstrating the connectedness between winning succession practices and operational success. The research is clear and compelling. The Hackett Group's 2009 Talent Management Performance Study involving hundreds of Fortune 500 Companies and government agencies—gathered both qualitative and quantitative data showing enterprise financial, operational and process payoff's from talent management.
Organizations with the most mature talent management capabilities (i.e., the 4 D's) had significantly greater EBITDA, net profit, return on assets, return on equity, and operational results than those organizations who were immature in their talent management processes. Additionally, mature talent management organizations had leaders who believed in the value of the human capital asset, were passionate about investing in building and growing talent, were relentless in their assessment of leaders, individuals and teams, and shared their human capital responsibilities with line managers and the Human Resources function.
It is clear that organizations that excel operationally, excel initially with their human capital/succession management practices. They select and promote only those leaders and future leaders who demonstrate (as a result of performance and objective assessments) they have the highest probability of being successful; they benchmark and essentially "certify" (as a result of assessments) that leaders and future leaders have the capability, commitment and alignment required to execute strategy; they provide a rich, compelling, engaging and dynamic learning and performance support environment that motivates leaders and future leaders to become the best they can be; and they reward and recognize those who truly execute.
A strong SMVP foundation leads to: (1) Capability-"Can Do"; (2)Commitment-"Will Do"; and (3) Alignment-"Must Do". Great organizations excel in creating the belief that their leaders and future leaders have the "can do" (i.e., the skills, the talents, the behaviors) to execute; the "will do" (i.e., passion, motivation, drive) to execute; and "must do" (i.e., an overwhelming sense of connectedness to the culture, mission, strategy and values of the organization) to execute. To put in different words, a strong SMVP is the foundation for any organization to build and sustain a culture in which leaders and future leaders become continuously more capable, committed and aligned. In fact, organizations that excel in promoting and developing leadership talent—with a focus and unwavering commitment to optimizing these "leading" indicators—as indicated earlier—achieve impressive operating results.