THE WORLD'S #1 EXECUTIVE COACHING AND BUSINESS COACHING BLOG SINCE 2017.
Choosing to become an executive coach is a major life decision, or at least it should be given careful consideration. Of course, some people simply label themselves as executive coaches in the mistaken belief that they can earn a living by providing encouragement to high-ranking corporate leaders who work for companies with deep pockets. That approach is short-sighted and doomed to failure. Becoming an executive coach is not for everyone, and it's certainly not for people who are looking for an easy way to make money. Furthermore, succeeding as an executive coach requires training, being coached, and experience. While you won't find "Executive Coaching" as a bachelor's or master's degree program, you will find that many universities offer executive coach training. Is completing one of these the best way to become an executive coach? Not necessarily. The fact is, once a credential in executive coaching has been earned, it's actual performance that gets you clients, not the name of the training program you completed.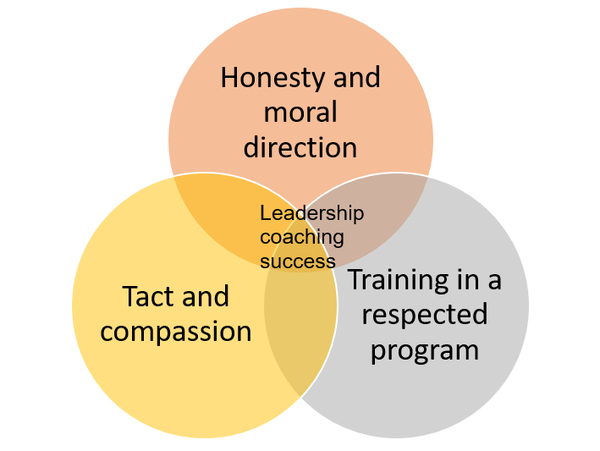 It takes a special combination of skills and personal characteristics to succeed as an executive coach.
Succeeding as an executive coach requires several key characteristics and skills, and many of these are independent of which executive coach training program you select. For example, having a strong moral compass is essential, as are honesty, tact, and compassion. Those are characteristics that cannot be imposed by training, but that must be cultivated from within you. This is not to say that it doesn't matter which executive training course you choose, because it does. Quality varies from one program to another, with some programs requiring extensive reading, learning, and introspection, and others offering the equivalent of becoming ordained online for the purposes of performing a friend's wedding: send in the fee and poof! You're an "executive coach." Choose your executive coach course wisely, because first of all, you don't want to waste your money and second, you want to be able to transfer your coaching skills into the real world, with real clients.
What to Look for in Executive Coaching Courses
Choosing the right executive coaching course requires that you look at a number of factors. For example, how much time and money are demanded of you? If a coaching course requires significant money, but not much in the way of time, study, and preparation, you may come out with little more than an expensive certificate with your name on it. Accreditation programs exist for executive coaching courses, and you're wise to choose a course that has gone through the accreditation process. You should understand what was required to earn that accreditation. The International Coach Federation (ICF) offers accreditation for executive coaching courses that can reassure aspiring coaches that a course is legitimate and that it offers sufficient training and practice to help a student launch his or her executive coaching practice.
Many executive coaching training courses exist, so research the options carefully. 
You should also be familiar with your own learning style and proclivities. Do you have the self-discipline to complete an online course, or do you feel like you need in-person training? If you want in-person training, are courses available near you, or can you afford to travel to the location where training is offered? It's important to learn in advance about the tools and techniques used both in the training and by coaches themselves after undergoing training. For example, how are participants trained to perform needs assessments and needs analysis? Are they taught specifically how to develop milestones for marking progress in the coaching journey? Are they required to undergo any of the assessment processes they are being trained to use?
One of the best ways to choose among the many executive training courses on offer is to find individuals who have completed programs you're interested in and ask them for their honest feedback. Top executive training programs are happy to offer references because they believe their successful students make great ambassadors for the program. Don't simply assume that because an executive coach training program has a high number of graduates that everyone is satisfied with it. Following are several examples of executive coach training programs. Each has its own style and content. Undergoing executive coaching is an investment, so be certain you have done your research before committing your time and resources to a program.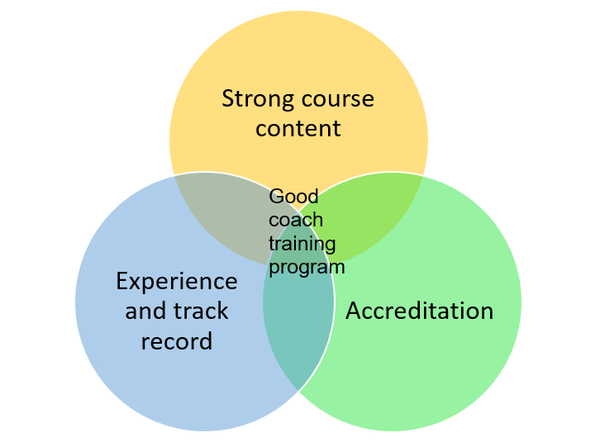 Look for track record, outstanding content, and accreditation when choosing among executive coaching programs.
Georgetown University
Georgetown University's School of Continuing Studies offers an Executive Certificate in leadership coaching. It consists of eight courses over the span of eight months and involves an all-day, Wednesday through Friday format once a month on campus. After completing the course, participants are expected to be able to:
Coach individuals or groups
Incorporate reflection, self-observation, and self-correction into their everyday life
Demonstrate fluent understanding of language, body language, and emotion
Understand the "organizational intervention" aspect of leadership coaching
Articulate and deliver the key elements of the coach-client relationship
Apply concepts of adult development theory to coaching practice
The curriculum is accredited by the ICF and qualifies for 14.25 Continuing Education Units, which requires 142.5 contact hours, completed in sequence. Coursework covers the topics of assessments, leadership coaching as organizational intervention, coaching to create breakthroughs, coaching flow, coaching to stage development, coaching teams and groups, and leveraging coach training.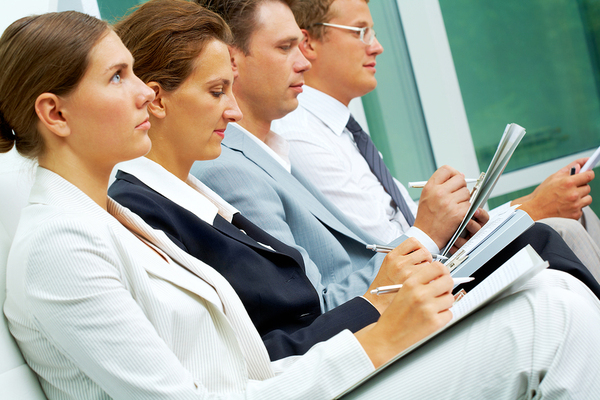 Some executive coaching programs are in-person and others are online.
Courses begin in Fall, Spring, and Summer semesters, and applicants are expected to have five or more years of training or professional experience in coaching, human resources, organizational development, or leadership. Enrollees are expected to be open to feedback and be capable of introspection and having their beliefs challenged. They are also expected to have at least a bachelor's degree. Letters of recommendation are required for some programs. Since the program offers a non-credit professional certificate, it doesn't qualify for federal financial aid or need-based aid, but employers that offer professional development benefits can guarantee payment for employee training with an Intent to Pay form that can be submitted with registration. Some federal agencies are also willing to pay training expenses for their employees.
American University
The School of Professional and Extended Studies at American University in Washington, DC offers an executive coaching program through its Leadership Coaching for Organizational Performance course. It is accredited by the ICF and is designed for people who want to develop coaching skills and apply them professionally as an internal or external executive coach. The program at American University is in-person and takes 132 contact hours over five months. The classes meet once a month in two- or three-day blocks, with each lasting from 8:30 to 4:30. The in-class instruction is supplemented by weekly conference calls, assigned reading, and journal assignments. After completing the second module, students begin practicing coaching, recording their coaching sessions to receive feedback from faculty and other accredited coaches.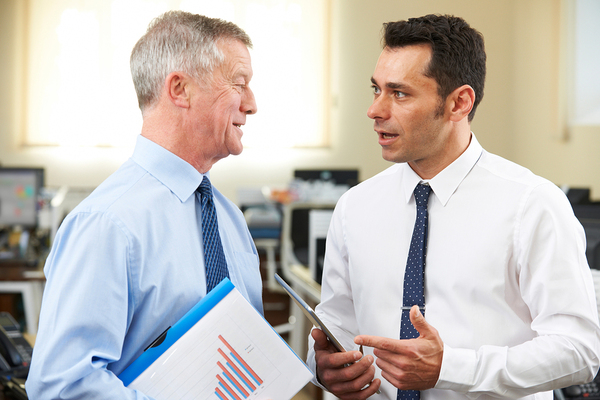 Coaches may be employed by a company itself, or they may be brought in from outside.
Learning modules include:
Leadership coaching foundation
Creating awareness
Language and emotion
Performance and change
The coaching process and business
Applying to the program requires prospective students to complete an application form, submit a 750- to 1,000-word essay answering the question of why they are interested in coaching in general and in the American University program specifically. Two letters of recommendation from professional colleagues are required, along with an electronic copy of the applicant's resume documenting at least seven years of professional experience and at least a bachelor's degree.
Rutgers University
Rutgers University offers leadership coaching certification through its Leadership Coaching for Organizational Performance program. The program consists of 132 hours of training, six executive coaching sessions observed and evaluated by an experienced coach, and a comprehensive exam at the end of the course. It takes place over five months, with two- or three-day modules lasting from 8:30 to 4:30 at various locations on the Rutgers campus. Additionally, the program includes individual and team conference calls, as well as extensive independent reading, and is accredited by the ICF.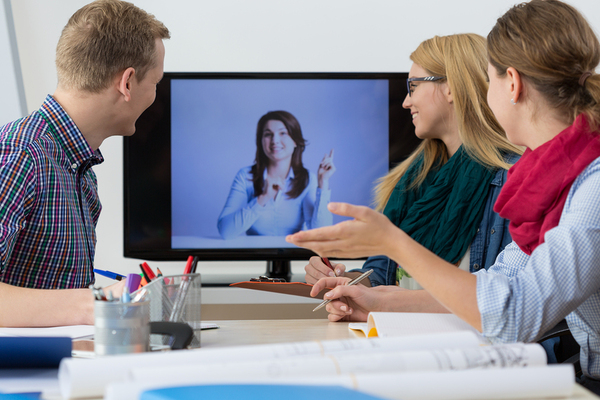 Phone or video conferences are elements of some executive coach training programs. 
Topics covered by the Rutgers' Leadership Coaching for Organizational Performance program include:
Foundations of leadership coaching
Creating awareness, building trust, and establishing authenticity
Using language and emotion to create purposeful conversations
Measuring performance and change
Coaching as a process and a business
Those who are interested in the program must apply online and submit a 750- to 1,000-word essay articulating their interest in leadership coaching. Two letters of recommendation from colleagues are required as well, and applicants must include a resume that includes at least seven years of professional experience as well as a bachelor's degree or more. Participants who pay after an early payment deadline are required to pay $500 more than those who pay before the deadline.
University of California at Berkeley
The previous three programs take place on the east coast, but aspiring coaches in the west may want a program closer to them. Berkeley Executive Education offers a Berkeley Executive Coaching Certificate. It is a 10-day training program for those interested in becoming executive coaches. The program emphasizes critical "soft skills" such as empathy, effective communication, and leadership presence. Also included is an intensive study of a coaching methodology called Active Communicating, and the entire program is around 90 contact hours of group classes, individual instruction, and coaching practice. Specifically, topics include:
Authentic and inspirational leadership
Coaching methodology
Meditation and mindfulness
Communication/storytelling skills
Four months of follow-up distance learning and online group meetings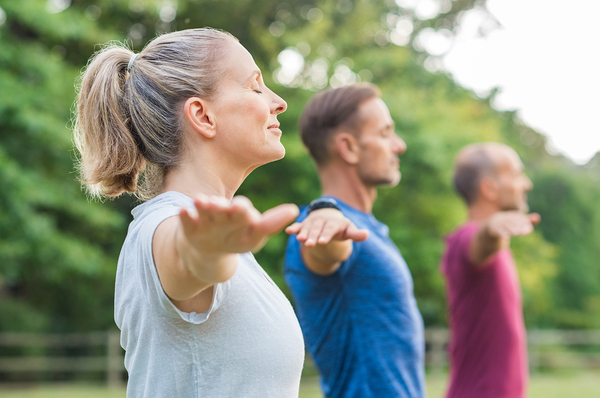 Some courses include modules on mindfulness for executive coaches. 
The program is also offered in several international locations, including Bangkok, Florence, Italy, and the Greek Islands as well as in Berkeley itself. The program is recommended for internal coaches, executives, and consultants as well as prospective coaches and coaches who want to further their training. Enrollment can be done through a brief online enrollment form, or by calling the program and having them assist in enrollment. Later enrollments incur a fee of $2,000. A certificate is awarded at the conclusion of the program.
University of San Diego
The School of Leadership and Education Sciences at the University of San Diego offers a Leadership Coaching Program for professionals who want to complete the requirements to earn a credential in the emerging field of leadership coaching. The goal of the program is to provide coaches and those who want to become coaches the skills they need to work in a variety of settings. Course participants who complete the five component courses are eligible for a Board Certified Coach (BCC) credential exam, which is offered by the Center for Credentialing and Education in Greensboro, NC. The School of Leadership and Education Sciences itself is accredited by the Council for the Accreditation of Educator Preparation (CAEP).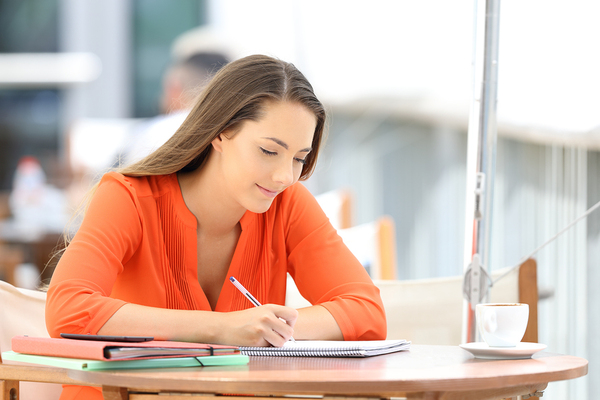 A final exam may or may not be part of an executive coach training course. 
The course consists of five workshops, which take place over the span of 10 months. People who want to take individual workshops may do so. The workshops are:
Foundations of Coaching
Self and Systems in Coaching
Building a Leadership Coaching Practice
Coaching and Mentoring
Leadership Coaching Practicum
It's important for enrollees to note that when minimum enrollments are not met, workshops may be canceled, in which case registration fees will be refunded.
Intelligent Leadership
Internationally acclaimed executive coach John Mattone offers a different approach to executive coaching courses. The Intelligent Leadership Executive Coaching Certification Program is a three-day, immersive online course focusing on developing skills as an executive and leadership coach. During the course, learners master John Mattone's proven executive coaching process and tools that have repeatedly demonstrated a powerful return on investment for coaching clients.
This program is based on John Mattone's Intelligent Leadership Executive Coaching Blueprint – the same coaching blueprint that informed coaching engagements with clients like Roger Enrico and the late Steve Jobs. The coaching process developed by John Mattone is a six- to 12-month immersive coaching engagement designed to facilitate personal growth and unlock a client's full potential. Based on a leader's inner-core characteristics and outer-core behaviors, the program's goal is to enable clients to reach for game-changing outcomes for sustained greatness in business and in life: altruism, affiliation, achievement, and abundance.
The Intelligent Leadership Executive Coaching Certification Program is designed for internal and external coaches, and consists of seven key program elements:
Establishment of vision and goals within a coaching context
Performing powerful inner-core assessments using proprietary assessment tools
Performing outer-core assessments with a similar set of tools
Targeted and customized development planning for coaching clients
Coaching and Intelligent Leadership content
Stakeholder and mentor engagement and learning
Stakeholder feedback and coaching debriefs
Through this program, the aspiring executive coach learns how to help executive coaching clients build their own Core Purpose Statement, how to help clients understand their strengths and develop action plans to sustain them, and how to help clients recognize and address leadership gaps. Additionally, participants learn about the importance of including stakeholders and mentors in the coaching process, techniques for measuring the impact of coaching, and information on building a strong coaching brand. Prior to the intensive, three-day workshop, participants complete their own leadership inventory assessments as well as an Executive Coaching Self-Assessment. This allows for the workshop to proceed at an intensive, immersive pace, for maximum results in a short time period.
John Mattone has spent his professional career developing expertise and direct experience with corporate culture transformation and leadership development. His Intelligent Leadership Executive Coaching Certification program is the culmination of more than 30 years of coaching and corporate culture services experience. The Intelligent Leadership Executive Coaching Certification Program offers participants a compelling opportunity to build a strong reputation as an executive coach because it teaches proven executive coaching processes and tools that are designed to deliver coaching clients a strong return on their investment.
The Intelligent Leadership Executive Coaching Certification program is accredited by the ICF and approved for 22.25 Continuing Coach Education credits, and 21.75 Core Credits. Participants in the course can be confident that the program has been rigorously reviewed by the ICF and meets its high standards for accreditation. The skills and techniques program attendees learn are directly applicable to the standards and values of the ICF. The goal of the Intelligent Leadership Executive Coaching Certification program is to train executive coaches to help current and emerging leaders unlock their full potential, so they can meet or exceed expectations as leaders. Coaches will learn how to ignite and strengthen executive coaching clients' inner-core character and outer-core behaviors, so they can excel as leaders and in life overall.
Glossary of Terms
Awareness – a measure of how cognizant a coaching client is of his or her own abilities, strengths, weaknesses, and stage of development
Coachable – clients who are open to coaching and willing to work on skills gaps as well as strengthen existing capabilities
Debriefing – re-examining a completed mission or undertaking to measure its effectiveness
External Coach – a coach who works independently rather than within the same business as coaching clients
Intelligent Leadership – a blueprint for leadership developed by executive coach John Mattone that emphasizes inner-core values and outer-core behaviors in order for leaders to develop their capacities to their fullest during the coaching process
Internal Coach – a coach who is employed by the same organization as their coaching clients
Milestone – a planned objective that is accomplished on the way to meeting larger goals. Milestones are useful as a way to measure progress in a coaching relationship.
Needs Analysis – the process of understanding the particular needs of a coaching client, particularly where their skills gaps exist, and other places where there is opportunity for improvement
Needs Assessment – the process of learning about a client, including their strengths and weaknesses, often through the use of assessment tools like those designed by executive coach John Mattone
Error: Contact form not found.