The World's #1 Executive Coaching and Business Coaching Blog (2017-2021)
Networking is an essential part of effective leadership. Not all of us are natural communicators and networking talents, however. Leadership coaching can help you develop your networking skills while revealing to you the true value of an extensive professional network.

The power of the network can unleash the potential of your organization.
Networking, the art of cultivating meaningful relationships, matters in leadership and increasingly in everyday life. As I have pointed out in my books and blog posts, your professional network is so important that you should never stop building it.
"Your network is your net worth." – Porter Gale
A solid professional network on the leadership level brings benefits that greatly enhance the chances of any organization to succeed. The same is true on a micro-level with personal networks.
Networking helps leaders identify fledgling trends together with the opportunities they present.
Networking offers leaders access to information not available to the public.
Networking opens up a more diverse pool of talent for organizations, allowing leaders to build meaningful connections with diverse stakeholders.
Through effective networking, leaders gain exposure to fresh ideas, creative viewpoints, and opinions.
Not Everyone is a Born Networker
Some people are born networkers. They can chat with anyone at any time and take pleasure in building connections, meaningful or less so.
Others are shyer and may find it a chore to reach out and socialize. Still, others may see networking as a waste of time, or an indulgence, requiring them to chat while they could be doing something seemingly more productive.
Leadership coaching is the solution for all leaders and managers who struggle with their networking skills.
How Leadership Coaching Can Help You Develop Your Networking Skills
Coaching can help such leaders understand the importance of networking and master the required skills.
A leadership development professional can teach you how to expand your network. You can join industry associations or volunteer in industry organizations to kick-start your professional network.
Your professional network is a living entity, constantly evolving or devolving, depending on how you tend to it. If you want it to thrive, you have to develop a strategy of staying in touch with the people who make it up.
You have to add value to your network over time proactively. Leadership coaching can teach you tried-and-proven methods to add value while accepting the truth that you need to give at least as much to your professional network as you take out of it.
How Can You Improve Your Networking Skills?
A leadership coach understands the underlying nuances of networking and the skills it requires.
Being an effective cross-platform communicator is a must for leaders of all levels these days. Chatting over drinks or the phone is basic networking. To get the most of it, however, you have to become an expert at using various online communication channels such as Skype, Zoom, Facebook, etc.
Be friendly and positive. People find it easier to chat up positive people. Since positivity — much like negativity — is infectious, people perceive positivity as a pleasant experience and welcome presence in their lives. Genuinely positive people can always see the silver lining in setbacks, and they are masters of rebounding after a failure. Positivity entails maturity.
Active listening is an essential part of communication, especially in the context of networking. Only if they sense genuine interest on your part are people willing to listen to what you have to say.
Humor makes you more relatable. Unfortunately, no leadership coach can teach you a healthy sense of humor. But such a professional can help you set limits on the amount and type of humor you use to facilitate networking instead of impairing it.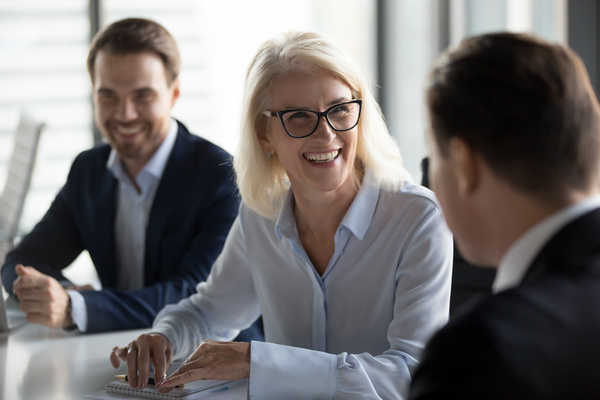 Appropriate humor facilitates communication. 
Build a reservoir of positive experiences on which you can fall back every time adversity gets the better of you. Mature leaders know how to boost their self-confidence, and this method is among their confidence-boosting tools.
Reaching out through networking events or pitching interview ideas to people are great ways to build connections.
In an intelligent organization of the 21st century, a leader's place is at the center of an extensive professional network and not reigning over an organizational chart from the top-down.
If you want to find out more about how you can boost your confidence and unleash your leadership abilities that facilitate confident networking, check out my leadership development books.