The World's #1 Executive Coaching and Business Coaching Blog (2017-2021)
Dr. Mike Smith lives by the mantra that the emotional "why" of a leader's core purpose statement is the driver of that leader's actions, behaviors, and abilities. Once a member of the Air Force's famous Thunderbirds, Dr. Mike also worked for Berkshire Hathaway, building experience and an impressive story. With John Mattone's leadership coaching tools, he turned that experience into an effective leadership coaching asset.
CEO of John Mattone Global Dr. Mike Smith wants to be a household name in leadership coaching and not a flash-in-the-pan headline. Dr. Mike thrives on the genuine appreciation of his clients and the knowledge that his leadership coaching efforts have made meaningful differences in people's lives. He appreciates quiet contributions more than a flashy, business coaching celebrity status.
Having worked in the military for 26 years and then for Warren Buffet's Berkshire Hathaway, Dr. Mike brings experience, resilience, and wisdom to the John Mattone Global brand. An ex-member of the Air Force's Thunderbirds, he understands the ups and downs of leadership coaching and knows talent alone can't make coaches successful.
Dr. Mike knows how to excite and inspire. 
A Follower, a Leader, and a Contributor
Following his retirement from the military, Dr. Mike Smith became a senior corporate leader with Berkshire Hathaway. During his time with that organization, he had the chance to experience being a follower, a leader, and a contributor while learning about corporate America.
Being on the acquisitions and integrations team at Berkshire Hathaway and garnering cross-platform business exposure taught Dr. Mike that solid leadership skills are transferrable regardless of industry. Leaders with solid fundamentals can step into unfamiliar industry, learn the technical factors, and use their confidence, core purpose statements, and other inherent leadership skills to continue being great leaders.
The Science of Dr. Mike's Art
When the time came to step away from his corporate job, Dr. Mike decided to use his "art" (which consisted of his rich life story and the sum of his experiences) to launch a coaching, speaking, and training business.
While helpful, he found that the "art" part of his experience was insufficient for success. He later discovered what he was missing.
John Mattone had the "science" part of the executive coaching equation figured out. As the world's top leadership coach, John created measurement and assessment systems; effective tools that allowed coaches and clients to measure progress and gain ideas about the values the coaching process provided.
When Mike's art met John's science, success happened.
Having secured his IL certification in early 2018, Mike deployed his newfound tools to the frontlines of his coaching efforts and saw immediate results. As he helped one client after another achieve personal and professional revelations, Mike could barely contain his excitement.
After about a year of executive coaching success, he became president, then the CEO of John Mattone Global.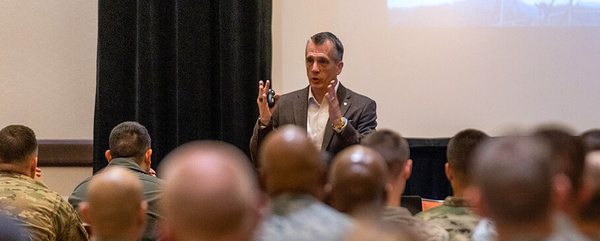 The Appeal of Simplicity
John's guidance had a huge impact on Dr. Mike's leadership coaching mainly due to its simplicity and linear nature. The tools, assessments and documentation were all lined up from left to right. They were easy to understand and to follow. Having learned to interpret the data and prepare for debriefs, Mike found it easy to connect clients to the conclusions the data yielded.
John's methods provided clarity about core purpose statements, leadership gaps, and ways for leaders to become who they wanted to be. They gave coaches clear roadmaps on how to help clients make discoveries and achieve goals.
Fundamental Leadership Training Is Not Enough
With ample leadership training from the military under his belt, Dr. Mike knew all there was about the generic, fundamental training programs organizations have in place. Although he admits such programs may be sufficient to create foundations for future leaders, Mike knows they fall short of the mark because:
They're not personal.
They don't consider the inner cores of individual leaders.
They don't concern themselves with the unique weakness and strength profiles leaders bring to the table.
They ignore the alignment of individual leaders with their core purposes.
The Power of Purpose
Per Dr. Mike, one's core purpose statement should serve as the foundation and driving force behind all of one's leadership development efforts. Having had to face death and the fragility of life as a serviceman, Mike knows the real question you have to answer when establishing your core purpose statement is not what you value the most in life; it is WHY you value that something the most.

Never underestimate the power of purpose.
Leaders who connect with their emotional "whys" don't lose motivation. This gives them missions and makes it easy for them to align their actions with their goals.
Dr. Mike once helped a mortgage company CEO from Salt Lake City reconnect with his "why." The leader doubted his abilities and was ready to quit when Mike asked him to re-read his core purpose statement. The ensuing realization had the CEO in tears and eager to recommit. Such is the power of the core purpose statement.
The role of the executive coach is to bring that power to bear whenever needed and keep leaders connected to their emotional "whys."