The World's #1 Executive Coaching and Business Coaching Blog (2017-2021)
The Need for Talent Leadership
April 18, 2012 | Category: Blog
An Exclusive Excerpt from John Mattone's New Book, Talent Leadership: A Proven Method for Identifying & Developing High-Potential Employees (AMACOM, 2012)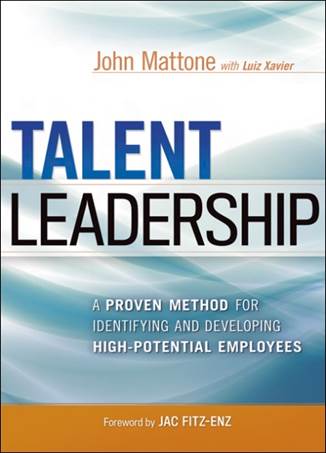 In today's global economy, it is critically important that organizations optimize their investment in human capital. Only the human capital asset can provide an organization with any real hope for meaningful market differentiation, positive branding, superior execution and ultimate operating success. Business strategies which are overly weighted towards developing new technologies or cost controls—for example, without the proper weighting of the human capital assets required to execute strategy, will result in a disastrous, short-lived plan that will lead to doom. All assets, except the human capital asset, eventually become commodities.
Beyond this, a host of external factors—an aging baby boomer population, job market instability, declining birthrates, and worker "migration"—are combining to make it extremely challenging for organizations to optimize their investment in human capital. For most organizations, it is just plain difficult to find and keep good talent. Shifting world demographics, the aging workforce, and global mobility, as well as a myriad of internal challenges (i.e., limited resources, skill gaps, insufficient leadership skills, etc.) are forcing organizations to re-think their human capital management strategy. Talent shortages at the leader level are exacting a heavy toll on growth and costs.
Some organizations are literally sitting on capital, unable to expand into new markets or make critical acquisitions, due to a lack of leadership talent. Other organizations are spending millions on recruitment as they scramble to fill key positions. The cost of training new managers and executives is equally taxing. Of greatest concern are the costs of poor decision making as organizations are forced to place less qualified individuals into leadership positions. Poor leadership can translate into millions in lost profits and missed opportunities.
The Search for Solutions
What can be done to reverse these trends? Clearly, organizations need outstanding high potential identification and development programs. Every process from succession planning to leadership development must be world class. The market is too competitive for anything less. More than anything else, however, an organization's ability to successfully reverse these trends is in direct proportion to the health and vibrancy of their talent management systems (i.e., Deployment—selecting and promoting talent;Diagnosis—continuously assessing leader, individual contributor and team capability;Development—continuously developing leader, individual contributor and team capability; and Demarcation—rewarding performance. None of this will occur, however, unless organizations and their leaders demonstrate Talent Leadership:
First, organizations (and their leaders) must believe that the human capital asset is the most critical variable in driving operating excellence. Everyone must be enlisted, coached and cajoled (if needed) in support of this belief.
There are numerous challenges—external and internal (tied to the 4 D's above) that organizations and their leaders encounter—if unsolved, these challenges will exact a significant toll on the health and vibrancy of an organization's performance.
There are clear, convincing and powerful relationships that exist between an organization's operating results and the relative strength of their 4 D's—top performing firms and their leaders understand, respect and act on these relationships.
There are also clear and proven predictive relationships between certain human capital "leading indicators" and their impact on individual and team performance as well as operating results. Likewise, the top firms and leaders understand, respect and act on these relationships.
The foundation for continuously improving these "leading indicators, isassessment and calibration. Organizations that excel in selecting, promoting and developing talent—rigorously and passionately assess "leading indicators". Assessments geared to leaders, individual contributors and teams enable calibration and re-calibration on the "leading indicators" so they can course-correct and improve their ability to predict and realize operating success.