The World's #1 Executive Coaching and Business Coaching Blog (2017-2021)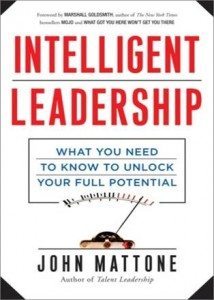 Amazon (37% Pre-Order Discount)
Barnes & Noble (46% Pre-Order Discount)
TAKE ADVANTAGE OF OUR PRE-ORDER SPECIAL (See below for details)
I am very excited about the release of my new book, Intelligent Leadership: What You Need to Know to Unlock Your Full Potential (AMACOM, April 23). I am often asked, "With over 50,000 books out there on the topic of leadership what makesIntelligent Leadership different"? In fact, when I approached AMACOM over a year ago with my book, the two questions Christina Parisi (Executive Editor at AMACOM) asked me were, "Is this book different than other leadership books and how so"? My answer to Christina then, was (1) "yes" and (2) let me show you how. My answer now, two months from the release date is, a stronger "YES", Intelligent Leadership is very different than other leadership books and let me explain why!
There are so many books on leadership, yet there are so few leaders. The demand for great leadership has never been higher. Our government—all governments crave superior leadership. Our schools, our businesses, in fact all our institutions crave superior leadership. Yet, despite the 50,000 books, leadership conferences, training programs, executive education programs, even much of the executive coaching that is happening all over the world, it is my belief we haven't moved "the needle" enough.
Why is this? It's because truly becoming a great leader requires a continuous commitment—everyday—not every other day, or every third day, or once a week—but, everyday—to becoming the absolute best you can be. It's hard work to truly become the best you can be. Actually, it's the hardest work you will do in your life. It is my belief that each and everyone one of us possesses the massive potential to become more capable, committed, and aligned today than we were yesterday. In fact, this is what separates truly great leaders from the rest; they possess a passionate and diligent focus on the singular pursuit of becoming the absolute best they can be—everyday.
It is only through the realization of this singular pursuit that great leaders cultivate the same in the people they lead. Great leaders possess what I call the disciplined pursuit of less, not more. But, we live in a world of "more" not "less". We live in a world of abundance. It is pursued. It is rewarded. Successful organizations seek to get larger, so they acquire. Successful people seek abundance, so they acquire more things. In fact, the fallacy of success is that it is usually the first step to failure. Think about it. Success brings opportunity. Opportunity brings diffused focus and effort. Diffused focus and effort bring dilution. Dilution brings death. Go back and read Jim Collins first book, "Good to Great", written in 2001. Some of those companies highlighted in that book, like Enron, no longer exist.
And, what about the people who have similarly fallen prey to the same fallacy?—examples include former TYCO CEO Dennis Koslowski, who is behind bars in a New York jail because he embezzled millions of dollars from his former company. Scott Thompson, former CEO of Yahoo was fired last year for falsifying his resume. Lance Armstrong's fall from grace has been swift and unforgiving. And, there are hundreds if not thousands of other similar stories of people whom we thought were great leaders, but who, in the end, were not. Most executives who derail "lose their way" either because of innate character flaws or they make a conscious decision to engage in what I call "unleaderlike behavior". In all of these instances, they have lost sight of the very essence of what great leadership constitutes and ultimately what can bring "true abundance" to themselves, their families and the organizations they lead—it is only the passionate and diligent focus on becoming the best you can be, that brings true abundance. It is the pursuit of less, not more, that unleashes your potential and the potential of others you lead.
This book is for leaders and future leaders who are truly energized and passionate about becoming the very best leader you can be. Forget your title or the title you aspire to. It's irrelevant. All of us are potential great leaders. This book will cultivate your heart, mind, and soul so that you are poised to touch the hearts, minds and souls of those with whom you work and live. In the role of leader, you have no more noble, worthy, or rewarding pursuit than unlocking and unleashing greatness in yourself, your employees, your team, and your family.
But, first an honest warning: regardless of your own sense of "worth", the title you have or don't have, the money you make or don't make, the house you live in or don't, I guarantee that by reading this book and committing yourself to what is truly a never-ending journey that will unlock and unleash your leadership potential, will not be an easy journey. It will not be an easy journey, but it is the only journey you can take to unleash all your capability and bring your true abundance. Yes, you will uncover your unique leadership gifts and strengths. But, you will also uncover your development needs and perhaps some painful truths about what I call your "inner core".
You will learn that the strength and vibrancy of your "inner core" can either unleash or limit your potential. You will take a test that will measure the strength and vibrancy of your "inner core". It is a test I have used in my executive coaching work for years working with high-potential leaders and CEO's all over the world. You may not like your score. You may quickly dismiss your score if it doesn't confirm how you see yourself as a leader or emerging leader. I have coached over 250 executives worldwide and I can tell you without hesitation that most executives, even CEO's, are not as self-aware as they think they are. I promise that you will uncover your strengths and development needs and I will then provide you the most detailed roadmap you will ever get to unlocking your full potential. Remember, you always have the choice to accept or reject feedback. However, if you choose to reject the feedback, you lose another choice: the opportunity to pursue a path that may be very well the path that leads you, your team, and your family to a better destiny. It's your choice.
Intelligent Leadership will challenge you to reflect on, connect with, and accept both yourleadership strengths and development opportunities. From there, the book will guide you in specific ways on how to strengthen your inner-core character, values, beliefs, thoughts, and emotions, as well as your outer-core competencies, so that you can break through your self-imposed limitations and achieve all you are capable of achieving as a leader and as a person.
This book contains the best of what I have learned in my 30 years as a leadership consultant, executive coach, and industrial psychologist. I have included a number of best practices, case study examples, authoritative research, practical assessments, as well as a variety of practical tools and models to equip you—the leader or emerging leader—with the knowledge, skills, and passion to become the absolute best leader you can be. Enjoy the journey!
PRE-ORDER SPECIAL
Anybody who orders the book — hardcover or eBook, from any bookseller —before March 26, 2013, will be entered into a draw to receive one of 15 exclusive prize packages:
A custom Mattone Leadership Enneagram Inventory (MLEI) Report, based on the assessment results from the MLEI Assessment in Appendix C of the book. I will personally interpret your MLEI Profile and write a 6-page MLEI Report that will put you on a path to unlocking your leadership potential.
A confidential, live 25-minute MLEI debrief and coaching session (by phone) with me.
Plus! EVERYONE who pre-orders the book by March 26, 2013 will receive an exclusive invitation to my live Intelligent Leadership Webinar and Q&A.
WHAT YOU NEED TO DO TO WIN & RECEIVE YOUR WEBINAR INVITATION
Once you pre-order the book, or if you've done so already, just forward your receipt in any form to info@johnmattone.com.
That's it. We'll verify your receipt, and then send you further instructions.